HCDE News
Friday, February 24, 2012
Guest Lecture by Kate Starbird. Join the Department of Human Centered Design & Engineering (HCDE) on Monday, March 5, for a guest lecture by Kate Starbird. Read more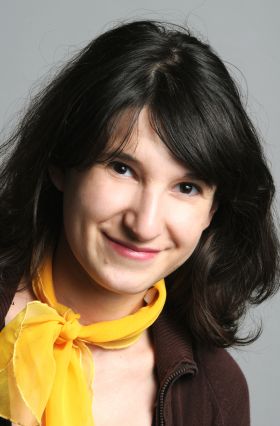 Wednesday, February 22, 2012
Guest Lecture by Daniela Rosner. Join the Department of Human Centered Design & Engineering (HCDE) on Friday, March 2, for a guest lecture by Daniela Rosner. Read more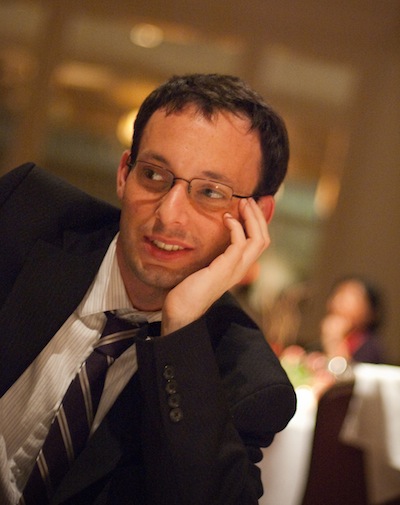 Tuesday, February 21, 2012
Guest Lecture by Sean Munson. Join the Department of Human Centered Design & Engineering (HCDE) on Tuesday, February 28, for a guest lecture by Sean Munson. Read more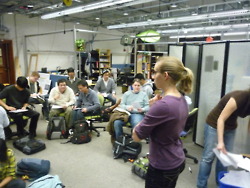 Friday, February 17, 2012
Guest Lecture by Lora Oehlberg. Join the Department of Human Centered Design & Engineering (HCDE) on Friday, February 24, for a guest lecture by Lora Oehlberg. Read more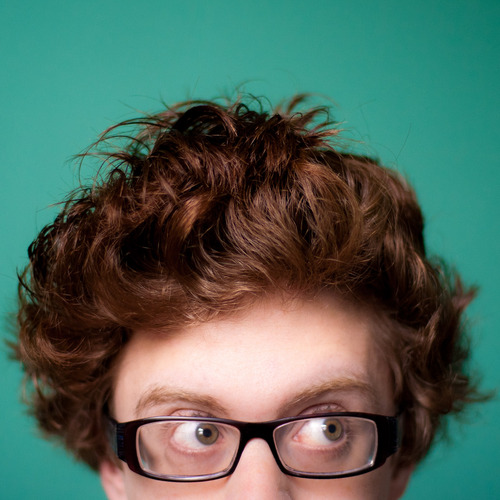 Thursday, February 16, 2012
Guest Lecture by Patrick Gage Kelley. Join the Department of Human Centered Design & Engineering (HCDE) on Tuesday, February 21, for a guest lecture by Patrick Gage Kelley. Read more
Tuesday, February 14, 2012
Shobe Prize Awarded to the Conversationalist
Congratulations to HCDE MS students Mike Bulajewski, Allan Bathurst, and Robert Wlodarczyk! Bulajewski, Bathurst, and Wlodarczyk received the 2012 Shobe Prize for their web and tablet application called Conversationalist, which integrates with Twitter to enable more substantial, less ephemeral conversations that grow out of Twitter interactions. Read more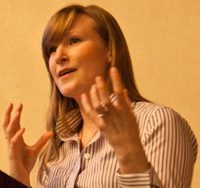 Friday, February 10, 2012
Guest Lecture by Dr. Helena Mentis. Join the Department of Human Centered Design & Engineering (HCDE) on Friday, February 17, for a guest lecture by Dr. Helena Mentis. Read more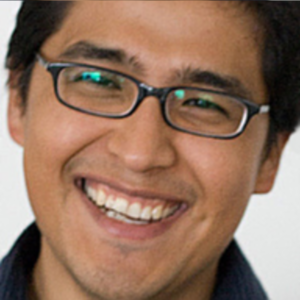 Wednesday, February 8, 2012
Guest Lecture by Dr. Andrés Monroy-Hernández. Join the Department of Human Centered Design & Engineering (HCDE) on Tuesday, February 14, for a guest lecture by Dr. Andrés Monroy-Hernández. Read more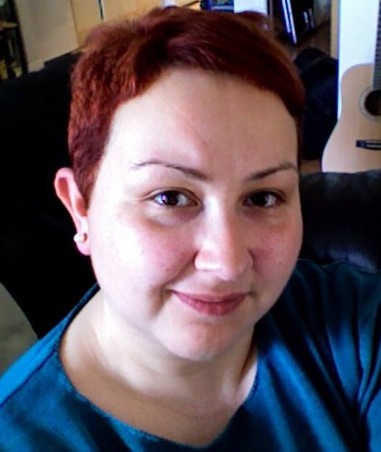 Tuesday, February 7, 2012
Guest Lecture by Dr. Luigina Ciolfi.
Join the Department of Human Centered Design & Engineering (HCDE) on Thursday, February 16, for a guest lecture by Dr. Luigina Ciolfi. Read more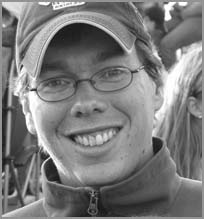 Monday, February 6, 2012
Guest Lecture by Yahoo! Research Scientist Judd Antin.
Join the Department of Human Centered Design & Engineering (HCDE) this Friday, February 10, for a guest lecture by Yahoo! Research Scientist Judd Antin. Read more
Wednesday, February 1, 2012
Professor Beth Kolko receives NSF grant. This fall, Human Centered Design & Engineering (HCDE) Professor Beth Kolko and colleagues from the Department of Computer Science & Engineering (CSE) were awarded a National Science Foundation (NSF) grant from the Smart Health and Wellness program.
Wednesday, February 1, 2012
2011 re:Design receives Merit Award. Congratulations to the 2011 re:Design team for receiving a Society for Technical Communication (STC) Puget Sound competition award! The STC Puget Sound recognized re:Design 2011 at the Merit level within the category of technical publications.
Tuesday, January 24, 2012
Professor Beth Kolko speaks at the Berkman Center for Internet and Society at Harvard University. HCDE Professor Beth Kolko spoke on Tuesday at Harvard University in a talk titled "Hackademia: Leveraging the Conflict Between Expertise and Innovation to Create Disruptive Technologies." A video and audio recording of her talk is available on the Berkman Center website.
Tuesday, January 17, 2012
HCDE student Julius Magsino recently reported on the first 521 series talk by Stephen Vick on the traceability systems for coffee farmers.
Friday, January 6, 2012
CSC Lab Honored by CSCW 2012. Two papers from the Computer Supported Collaboration (CSC) Lab, directed by Professor Charlotte Lee, have been nominated for the Best Paper Competition of CSCW 2012. Congratulations to Professor Lee and her lab!
Tuesday, January 3, 2012

HCDE Professor Jennifer Turns and CQUniversity Australia senior research project officer Matt Eliot recently had a paper they published in the Journal of Engineering Education featured in Prism, a publication of the American Society for Engineering Education (ASEE).
Thursday, December 15, 2011
HCDE PhD student Robert Racadio and HCDE alumna Dr. Emma Rose will be running a workshop on conducting field studies at the UPA 2012 conference in Las Vegas. Their workshop abstract is: "Hear stories from a project that took prototypes, both in paper and in development, out to the field to meet users where they were. We provide guidelines for conducting field studies on mobile and web, share findings, and demo our materials." Congratulations to Robert and Emma for their acceptance to the conference!
Monday, December 5, 2011
HCDE PhD student Daniel Perry gave a popular talk on using Mechanical Turk to gather energy use information at the Behavior, Energy, and Climate Change (BECC) Conference in Washington, DC, on December 1. Alan Meier, senior scientist at Lawrence Berkeley National Lab, stated that Perry gave an excellent presentation and had "unquestionably the best paper in the session."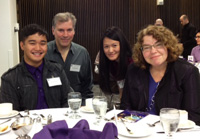 Wednesday, November 30, 2011
The 2011 Scholar-Donor Recognition Luncheon was held on Wednesday, November 16, to honor the generous donors who fund tuition and the students they support. The luncheon was an opportunity for donors to connect with scholarship recipients in the College of Engineering, including four undergraduate students from HCDE.
Wednesday, November 30, 2011 | UW Today
UW Today has profiled HCDE Professor Judy Ramey in their most recent edition. The article covers her career (which began in medieval studies), her trek from South Texas to Seattle, and her passion for food—including her troop of Thanksgiving volunteers!
Tuesday, November 22, 2011
This Autumn, students in Professor Julie Kientz's User-Centered Design class (HCDE 518) were able to choose research topics that Corporate Affiliates Program (CAP) members proposed. Both Microsoft and General UI had winning proposals that student teams selected.
Monday, November 21, 2011
It's been a busy Autumn for Human Centered Design & Engineering (HCDE) students and Corporate Affiliates Program (CAP) members alike, with several CAP members holding information sessions and other workshops for HCDE students.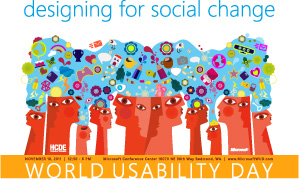 Monday, November 14, 2011
HCDE and Microsoft Co-host World Usability Day
HCDE students, faculty, and staff attended World Usability Day at Microsoft on November 10, 2011. From fascinating talks to Kinect battles, a fun and inspirational day was had by all! 
Monday, November 14, 2011
PhD student Doug Divine attended ACM SIGDOC in Italy this October. Read about his experience!
Thursday, November 3, 2011
HCDE Professor Cecilia Aragon has received an NSF grant for her project, Collaborative Games for Bioinformatics Education. The grant, which began this October, will run through September 2013.
Thursday, October 28, 2011 | USA Today
An article in USA Today quotes PhD student Alex Thayer on research conducted by Thayer and Professor Charlotte Lee on e-reader use.
Monday, October 17, 2011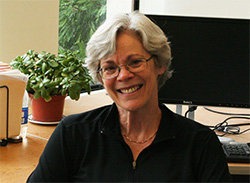 HCDE Professor Judy Ramey is receiving the 2011 Ronald S. Blicq Award for Distinction in Technical Communication Education and the Best Paper Award this week at the 2011 International Professional Communication (IPCC) Conference in Cincinnati, Ohio, by the IEEE Professional Communication Society. We recently sat down with Professor Ramey to interview her about her research, how she became interested in usability, and her passion for food!
Monday, October 17, 2011
Infocamp 2011 was well-attended by HCDE students and alumni, and three presentations were led by HCDE students or alumni. HCDE Master's student Chris Lam led a session on design brainstorming based on his experience as a UX designer at Intuit. HCDE PhD Candidate Jonathan T. Morgan gave a presentation on the Living Voters Guide, and HCDE MS alumni Chad Driesbach and Elly Searle gave a presentation on how to build a successful UX web portfolio.
Friday, October 7, 2011 | Scientific Computing
HCDE Professor Cecilia Aragon developed technology used by her colleague at UC-Berkeley, 2011 Nobel Prize of Physics Laureate Saul Perlmutter, in his computational cosmology research. According to an articlue just published in Scientific Computing, Sunfall, developed by Aragon and collaborators at UC-Berkeley, has "eliminated 90% of the human labor from the supernova search and follow-up workflow, and its statistical algorithms reduced the number of false-positive supernovae candidates by a factor of 10." Sunfall was part of the research for which Aragon received the Presidential Early Career Award for Scientists and Engineers (PECASE).
Friday, September 23, 2011
HCDE Professor Mark Haselkorn presented at The 9/11 Conference on September 9, which looked at the 9/11 attacks ten years later. Slate Gordon, who served on the 9/11 Commission, commented that Haselkorn's presentation was "very substantive," complementing other speakers' presentations well. The conference was covered by The Seattle Times in an article that references Haselkorn's panel on cybersecurity. The panel, along with others from the conference, can be viewed online at the conference website.
Saturday, September 3, 2011 | Pittsburgh Post-Gazette
A recent article in the Pittsburgh Post-Gazette referenced research conducted by PhD student Alex Thayer and HCDE Professor Charlotte Lee on e-reader use.
Friday, September 2, 2011
Human Centered Design & Engineering PhD student Betsy Rolland and Professor Charlotte Lee have received an award in the amount of $185,866 from the National Institutes of Health for their proposal "The Role of Coordinating Centers in Collaborative Cancer-Epidemiology Studies."