December 20, 2017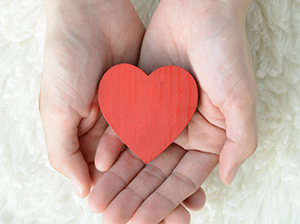 Julie Kientz, associate professor of Human Centered Design & Engineering, is thankful for the supportive community she finds in a Facebook group for academic mothers, a network of over 12,000 mothers working in academia around the world. Within the group, Kientz finds she can explore current topics in academia and discover unique challenges facing working and studying mothers. "The group does an excellent job highlighting the inequalities in academia, from people with stable, tenured positions like my own to struggling grad students and adjunct faculty without stable employment," Kientz described.
In late autumn quarter, Kientz came across a post to the group by a PhD student asking for advice about how she, a single mother, could break the news to her child about not being able to afford presents this holiday season. Kientz was touched to see group members line up offering to send gifts to the struggling mom. Sensing that the mother was not alone in her struggle, Kientz set up a process to pair moms who were struggling to make ends meet with other academic moms who were able and willing to help. "I posted a call asking moms who needed help to set up a wishlist on Amazon—that could include things like toys and clothing for their children or grocery store gift cards or Visa gift cards—and then I made a spreadsheet of the links to the wish lists and advertised it to the group," Kientz described.
Kientz was delighted with the results: academic mothers from around the world purchased over 240 gifts for struggling families, including single-moms pursuing PhDs, scholars whose partners have been injured at work or deployed overseas, academics who have taken in foster children and are stretched thin, and many others.
"I remember when I was a grad student with a small stipend and no family financial support how difficult it was to make all the financials add up, and I couldn't imagine how much harder that would be had I been a parent at the time," Kientz described. She found the process could be enabled through modern technology tools, such as Amazon's wishlist feature; Google Sheets for advertising the wishlists anonymously; and the Facebook group to reach women in academia from around the world. However, Kientz struggled somewhat with these tools in preserving things like anonymity of shipping addresses, connecting people who needed to pass along a message about shipments not being received, and difficulties with the Amazon wishlist tool for allowing people to give across international borders. Kientz sees an opportunity for design here that would allow for more seamless anonymous gift giving at this scale: "this could be a great capstone project topic for HCDE's students who want to help enable anonymous giving like this."
Alexis Hiniker (HCDE PhD, 2017), assistant professor in the UW Information School, is also a member of the Facebook group for academic moms and tipped the department off to Kientz's efforts. Hiniker was humbled by Kientz's initiative and the response from the group, saying "It is amazing to see so many mothers push themselves to their limits to make the intellectual contributions they care about, even though so many forces make that challenging. Holiday gifts won't make that burden go away, of course, but it's inspiring to think that it might lighten the load a little bit."