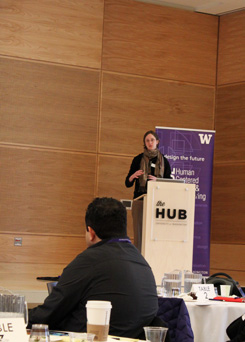 The Department of Human Centered Design & Engineering (HCDE) held its third annual Corporate Affiliates Day on March 5, 2013. Members of its Corporate Affiliates Program attended and met with HCDE faculty and students.
HCDE's Corporate Affiliates Program (CAP) is in its third year and has grown to 17 member companies. CAP is designed to enhance interaction between industry partners and HCDE. Affiliates enjoy a special connection with HCDE that fosters long-term relationships, leading to technical exchange, collaboration, and interaction with faculty, students, and alumni.
The morning began with research presentations by two of HCDE's newest faculty members, Professors Sean Munson and Kate Starbird. This was followed by a presentation by HCDE alumnus Adonis Acuario (MS 2010) on how his degree in HCDE helped him working at JP Morgan Chase.
The group then heard from Jerrod Larson (PhD 2010) of Boeing on working with undergraduate student interns, and from Miranda Stephenson of Mosaic on working with graduate student interns. Next, Microsoft's Mike Berg (MS 2009, UCD 2006, and TWE 2006) about a classroom project in HCDE 518 that Microsoft coordinated and Mike's experience working with students in a directed research group, followed by HCDE Professor Julie Kientz and Senior Lecturer Andrew Davidson on opportunities to get involved on student capstone projects.
In the late morning, Professor Mark Zachry led a roundtable discussion to tie together the presentations and facilitate discussion between HCDE faculty and corporate affiliates on what HCDE's industry partners are looking for in order to best take advantage of the partnership.
After lunch, CAP members had the opportunity to meet with students, who presented their research in a poster session. Next, CAP members were able to tour HCDE research labs and meet with students one-on-one.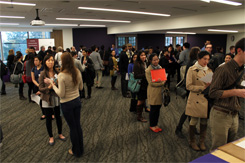 The day ended with HCDE's Career Fair, giving HCDE students and alumni an opportunity to chat with CAP members about internships and careers. Students have called the HCDE Career Fair the best career fair on campus in previous years.
Department Chair and Professor Jan Spyridakis reflected on the day, saying that she looks forward to continued collaborations between HCDE faculty, students, and industry partners. "Corporate Affiliates Day was once again inspirational, and I am eager to see what projects our industry partners and our faculty and students collaborate on in the future."