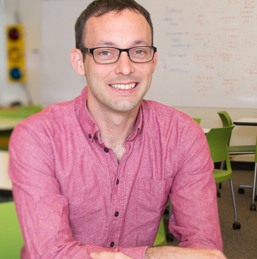 Sean Munson, assistant professor of Human Centered Design & Engineering (HCDE), has just been awarded a Google Faculty Research Award for his project studying how planning for uncertainty can improve predictive systems.
Munson's proposal, "Human-centered representations of uncertainty in everyday, mobile predictive systems," looks at how people make decisions using predictive data (such as a mobile alert about when the next bus arrives), and how integrating visual representations of uncertainty and alternate outcomes could help people make better decisions about how to use their time.
The research team will design and evaluate a visualization of hypothetical outcomes for use in mobile applications. Their results will further the understanding of how to communicate prediction uncertainty to non-experts engaged in daily decision making.
Munson's collaborators on this project are Assistant Professor Jessica Hullman (UW's Information School) and PhD student Matt Kay (UW Computer Science & Engineering). Martin Wattenberg is the team's Google sponsor. Thanks to previous funding from the Distributed Research Experiences for Undergraduates (DREU) program, undergraduate student Tara Kola (Tufts) joined the team and has already started evaluating possible interfaces for representing uncertainty and developing predictive models for bus arrival.
Google received 805 proposals from 48 countries on 6 continents, and made 113 awards. The Faculty Research Awards program aims to identify and support world-class, full-time faculty pursuing research in areas of mutual interest.