Sandra Bilbrey graduated from the University of Washington with a Bachelor of Science in Human Centered Design & Engineering (HCDE) in 2011. She works as User Experience Designer in the UW Office of Research Information Services. The Office of Research Information Services is a specialized information technology office that meets the needs of faculty doing research at the UW. The UW pulled in over 1.5 billion dollars for research last year, and that research advanced science and understanding across the globe. Bilbrey's work focuses on the uw.edu/research website and she feels like she is contributing something positive to the world by helping researchers get funding and approval for their work.
Bilbrey says that the website contains "an ocean of information that needs user-centered love." The UX Designer role did not exist before Bilbrey started, so one of her challenges has been to not only put on her UX hat and unify a body of disparate information, but also to help educate people in the organization about what user-centered design is, and how it can help reduce the administrative burden on researchers.
Bilbrey also volunteers on the UX@UW team, an effort by members of the UW's UX community to promote the importance of UX design at the UW. They offer consultations and feedback about the design of websites and other digital interfaces to UW units across campus. Their website features blog posts by the UX professionals who work at the UW.
As an undergraduate student, Bilbrey participated in HCDE Professor and Chair Jan Spyridakis' directed research group in the Internet-Based User Experience Lab, in which Jan's group ran remote usability studies and built open-source tools to help other researchers run their own studies. Bilbrey credits this experience in landing her an internship in the Office of Research Information Services, where she now works as a UX Designer.
Bilbrey says that her favorite class was User Experience Design, which is a project-based introduction to the user interface design process and is oriented toward practical methods for approaching a design problem. Bilbrey says that she regularly uses every skill she learned in that class. She learned to be comfortable ideating with other people and how to tactfully deal with criticism while designing. Bilbrey comments that the practice she had in class was invaluable when she was standing in front of the whiteboard for the first time as a professional.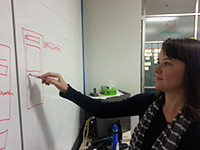 HCDE alumna Sandra Bilbrey works at a whiteboard in the UW Office of Research Information Services.
Reflecting on her studies in HCDE, Bilbrey says, "Learning how to communicate clearly, do research, and be an effective project manager were the three most valuable aspects of my undergrad career.... Every mock-up, wireframe, user flow, and design justification I did in class was invaluable practice."
"It is an exciting time to be working in the HCDE field," Bilbrey continues, "I plan to keep learning and pursuing my professional interests—UX research, design, content strategy, information architecture, mobile web development—and see where it all takes me."