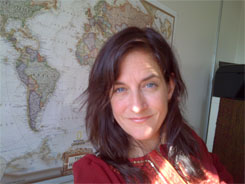 Human Centered Design & Engineering (HCDE) PhD candidate Robin Mays has been working with Professor Mark Haselkorn and the Red Cross Global Disaster Preparedness Center to analyze what humanitarians and logisticians value within their work methods, decision-making, and ways they operate in order to increase the understanding of "effectiveness" of disaster preparedness and response work.
The project began in fall 2012, with Mays conducting preliminary interviews with experts to learn how practitioners define preparedness and where preparedness work is conducted within national societies around the world. Beginning this May, Mays will travel to 4–6 countries known for "better preparedness" to observe practitioners on the ground and create an understanding for effective preparedness operations. The ultimate goal of the project is to determine what is working well in terms of emergency preparedness and how to improve on that further.
Robin Mays began her work in logistics in the military after completing her undergraduate degree. She then moved to humanitarian operations, working for the UN World Food Program in Ethiopia, the US Agency for International Development (USAID) as the Logistics Response Manager in the Office of Foreign Disaster Assistance. After that, she moved to World Vision International, working in Pakistan as the Chief of Logistics for a year before taking a role in Washington, DC, as a part of the global rapid response teams and the Head of Emergency Logistics Preparedness & Planning. Mays returned to school in 2010, completing a Master of Science in Human Centered Design & Engineering. Mays hopes her PhD work will contribute understanding for the academic community for focusing research and design approaches that are more fruitful for forwarding the effectiveness of humanitarian relief operations.