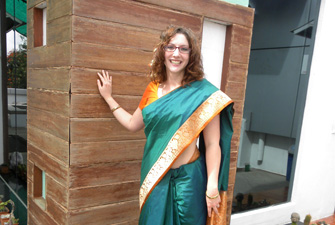 Rebecca Walton received her PhD in Human Centered Design & Engineering in 2011 and was recently hired as Assistant Professor at Utah State University.
While at the University of Washington, Rebecca Walton and her advisor, Professor Mark Haselkorn, were guest editors of a journal special issue focusing on professional communication in humanitarian environments. Walton also worked with Professor Beth Kolko on a Central Asia project focusing on information and communication technology. Walton's dissertation focused on the transition of technology-based development projects from exploratory research to long-term implementation.
According to Walton, one of the highlights of her doctoral work was conducting research abroad. She spent several months in Kyrgyzstan, working on a project with Mercy Corps to learn more about how micro-finance employees gathered and used information about their clients. Walton also spent time in India, collecting dissertation data and working with Microsoft Research. However, Walton notes, "A less flashy (but still momentous) highlight of my graduate studies was falling in love with teaching. When I applied to the PhD program, I knew that I loved conducting research, and I was focused on humanitarian work from the beginning. But I hadn't taught before and was surprised to find that I love teaching and wanted to pursue an academic career."
Walton was hired as an assistant professor at Utah State University in 2011. Her appointment is in the Technical and Professional Communication program in the English department. The program offers both undergraduate and graduate degrees in technical communication, which was one of the reasons Walton wanted to work there. "I love teaching undergraduates, but I also wanted to work with graduate students on research projects. Working in a program that includes all three degrees provides a wonderful range of opportunities."
Walton is currently teaching an undergraduate course in document design and graphics and a course in professional communication technologies. Regarding her research, Walton has been focusing on publishing from her dissertation work and other research she conducted at the UW.
Walton is also working with a graduate student on a project involving healthcare for resource-constrained communities in Utah and working on a new project to amplify care-giving for youth heads of household in Rwanda. She's hoping to partner with local communities in Utah to build relationships that can support long-term research directly benefiting community members.