Kathryn Shroyer, PhD student in the Department of Human Centered Design & Engineering, has received the 2018 Best Paper Award from Design Studies Journal.
The award-winning paper titled "Timescales and ideaspace: An examination of idea generation in design practice" is an investigation into how professional designers generate ideas in their everyday design work. The paper is co-authored by HCDE Research Associate and Master's alumna Terri Lovins (MS '16), HCDE Professors Jennifer Turns and Cynthia Atman; and Professor Monica Cardella, School of Engineering Education at Purdue University. 
Using a shared video dataset collected and provided by the 2016 Design Research Thinking Symposium, Shroyer presents a case study of how a professional design team conducts idea generation at five different stages, or timescales, in their design process.
Shroyer studied idea generation across five timescales ranging from a three-month period, down to a small design team discussion. At each timescale she studied the idea generation practices of the team, focusing on the team's structure, their activities, and the ideas they generate.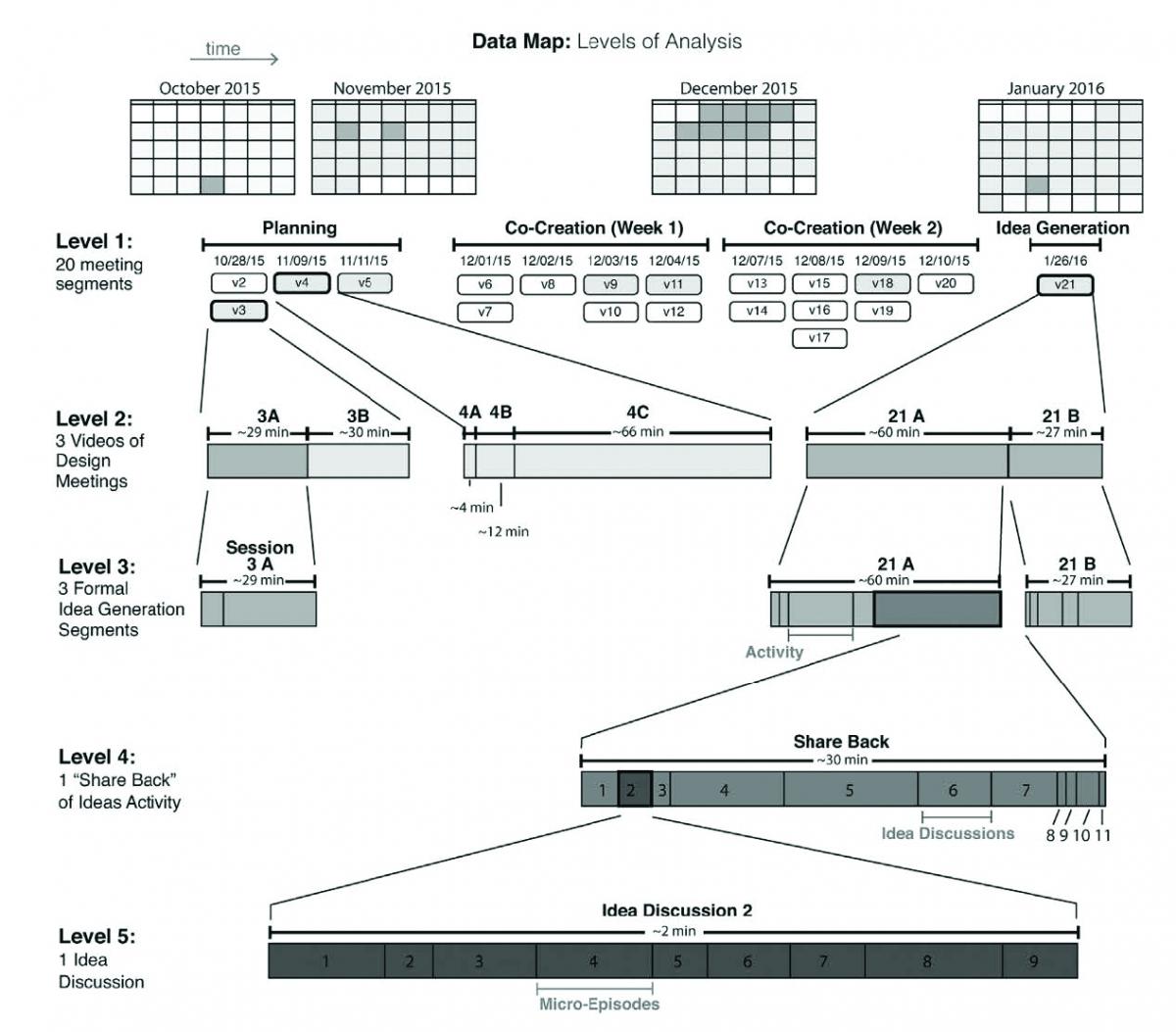 Figure 2. This figure illustrates (top to bottom) the five emergent timescales of analysis with data scoped by the authors. Level 1 contains the shared dataset of 20 videos (boxes) of design team activity, over 12 days (columns), spanning a three-month time period. Videos are grouped into four phases with shaded boxes indicating those videos we identified as containing idea generation. Level 2 depicts three videos (v3, v4, and v21) containing idea generation divided into seven segments. The shaded segments represent places in the data where the design team dedicates time explicitly to idea generation. Level 3 depicts the three formal idea generation segments occurring in v3 and v21, divided into 13 activities. Level 4 depicts the 'share back' of ideas activity in segment 21A subdivided into 11 idea discussions. Level 5 depicts the two-minute discussion of one idea within the 'share back' subdivided into 9 micro-episodes.
Shroyer, K. (2019). Timescales and ideaspace: An examination of idea generation in design practice. Design Studies 57, 14. 
By analyzing how design teams generate and pin down new ideas, Shroyer highlights specific structures, techniques, and tools used in idea generation. 
The Design Studies Best Paper Award is awarded annually by Elsevier Science and the Design Research Society. Recipients are selected based on contribution to the development of the field of design research, originality of research or scholarship, breadth of relevance, and clarity and style of presentation. 
The research is supported by the Consortium to Promote Reflection in Engineering Education (CPREE), the Center for Engineering Learning & Teaching (CELT), and the National Science Foundation Graduate Research Fellowship Program.