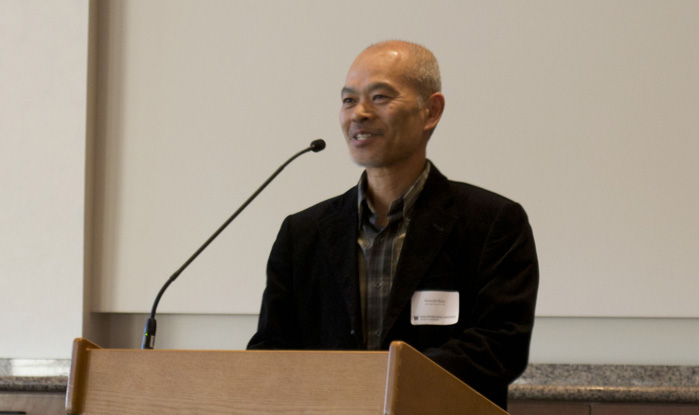 Earlier this week, students, alumni, faculty, and staff from the Department of Human Centered Design & Engineering (HCDE) and the UW Technical Japanese Program (TJP) came together to celebrate Masashi Kato's 23 years with the department. The department will close the Technical Japanese Program in June 2015.
Kato joined HCDE in 1991 as a full-time lecturer of Technical Japanese and Technical Communication, becoming a Senior Lecturer in 2002. In 2004, he accepted the role of Associate Director of the Technical Japanese Program.
Kato consistently received high marks on his student evaluations, and was thanked for being a very patient and supportive teacher by the several students who spoke in front of the room. One student recalled how it was Kato's encouragement that helped him complete the most challenging and rewarding pursuit he has undertaken to date--his degree in Technical Japanese.
In 2003 and 2005 Kato was nominated for the UW Distinguished Teaching Award, and in 2014 he received the Leslie Birkland Award for teachers who have demonstrated outstanding leadership and long-term contributions to Japanese language education.
Department Chair Jan Spyridakis commended Kato for his dedication, saying "I am sure I can speak for hundreds of Masashi's students in thanking him for his strong teaching, his enthusiasm for our field, and his attention to his students."
"Students have been the source of my joy here… most of the time," Kato told the room with a smile. "It's been my great pleasure to be associated with you for the past 23 years." Kato is still finalizing his next career steps but promises to continue teaching in academia.