Human Centered Design & Engineering Associate Professor Julie Kientz and Assistant Professor Sean Munson, together with a multidisciplinary team of faculty from Electrical Engineering, Computer Science and Engineering, Behavioral Psychology, and Medicine, have received an Innovation Research Award from the University of Washington for their project, "A Connected Approach to Personalized Mobile Health."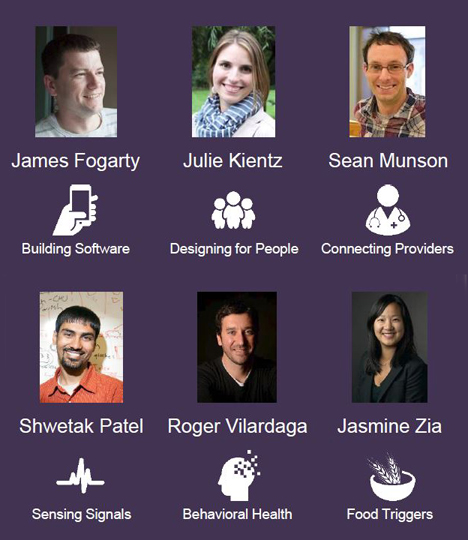 The UW's Innovation Awards recognize exceptional innovators among the UW's early and mid-career researchers engaged in the medical, natural, social and engineering sciences, as well as researchers fostering new levels of student engagement through active learning.
The team describes their goals in their project proposal: "With our team-science approach, we seek to establish a framework and a set of methods and tools to help empower people and their providers to use computing and mobile health systems to improve their health. The main steps are to guide people in asking the right questions, collecting the right data, forming meaningful hypotheses, systematically testing those hypotheses, and drawing conclusions about their health. These conclusions can be used to tailor personalized behavior change interventions that can lead to improved health outcomes."
Additional investigators on the project are Shwetak Patel and James Fogarty, Associate Professors in Computer Science and Engineering; Jasmine Zia, UW Medicine's Division of Gastroenterology; and Roger Vilardaga (Psychiatry and Behavioral Sciences).
"These are some of the most creative thinkers in our midst and are at the heart of the UW's innovation ecosystem. Their work, their curiosity and their undaunted spirits truly transform our world. We congratulate them for fueling the innovative research and education that is working toward a world of good," writes Provost Ana Mari Cauce about the 2015 Innovation Award winners.
Announcement from the Office of the Provost »