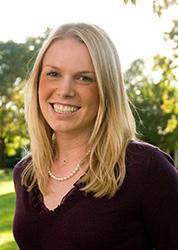 The Department of Human Centered Design & Engineering (HCDE) is pleased to welcome Jaime Luce as the department's newest staff member. Jaime joins us as the department's Assistant to the Chair. (Jaime replaces Julianna Jones, who moved to the Office of the Vice Provost for Academic Personnel earlier this summer.)
Jaime Luce is a 2006 graduate of the University of Washington, where she earned a double degree in Communications and Marketing (General Studies). After graduating, Jaime moved to New York, where she spent two years in marketing and advertising. In 2008, she and her husband moved to Charlottesville, Virginia, where she served as an administrative assistant to the Associate Deans in the College of Arts & Sciences Dean's Office. During her tenure at UVA, her interest in higher education continued to grow, and she looks forward to pursuing that interest at the University of Washington as the Assistant to the Chair. Jaime is thrilled to be returning to Husky nation, and to be joining the Human Centered Design & Engineering team.
We're thrilled that Jaime is joining the HCDE team! Please be sure to stop by 426 Sieg Hall to welcome Jaime to the department when you have a chance.