The Department of Human Centered Design & Engineering (HCDE) undergraduate curriculum includes an upper-level course on Visual Communication (HCDE 411), in which undergraduate students learn the basics of visual design. During the 10-week course, students learn the vocabulary and nomenclature of visual design, building a foundation in two- and three-dimensional design, typography, and structure. "The key take-home message," says HCDE instructor Jacob Fleisher, "is that visual design, like engineering, is a logical, planned activity—it does not happen by accident."
Beginning with a four-week unit concentrating on the form of design elements, students created visual communication compositions experimenting with value, contrast, negative space, and layout. From there, students studied typography, creating characters in their own typeface. Building on this foundation, students then looked at information architecture and design, combining various elements of design in order to tell a story.
Jacob Fleisher, a designer and user researcher who has previously taught industrial design in the UW's School of Art, commented on the challenges associated with teaching students of HCDE about visual design: "My greatest initial challenge was to understand HCDE students' interests, motivations, and aspirations, but one of the most gratifying experiences was seeing the sheer intellectual and technical horsepower the students displayed in the problem-solving seen in their final projects, and observing the students' increased ability to articulate the reasoning behind their design decisions."
The course culminated in a two-week final team project. The eight student teams designed products that were meant to meet a real user need in order to demonstrate their abilities in visual design to aid and support communication and successful attainment of their product's goals. The teams had two weeks to propose and present their product ideas, which they then pitched to a panel of experts.
Each team came up with an interaction design project focusing on a specific problem. The first day of presentations ranged from a mobile application on locating coffee stands with the shortest wait times on the University of Washington campus to interactive kiosks directing lost visitors around campus from one place to another using well-known landmarks to utilizing body scans to create a 3D virtual model to get the best fit when shopping for clothes online to a mobile app for attending the Dare to Dream fundraiser.
The second day of presentations included an interactive tablet menu that provided in-depth information and history of the food served in a restaurant, an interactive system that helps cooks better handle restaurant order tickets, a mobile app that suggests activities for a group while simultaneously creating a scavenger hunt-like experience, and a mobile app music selection system that creates a playlist from event attendee preferences and votes. Panelists provided targeted feedback to each group, critiquing their design, project idea, prototype, and presentation, and providing suggestions for future iterations. One of the panelists, Skip Walter, was thoroughly impressed by the presentations, saying, "The first student team had come close to replicating the design of one of my student teams from an MBA program last spring—in two weeks instead of a full quarter. Amazing."
One student group created the product Order Up! to streamline ticket processing in the kitchen area of restaurants for their final project. As part of their presentation, the group created this introductory video. Group members were HCDE students Jenny Acevedo-Barga, John Kinney, Reade Lobdill, and Natasha Noltimier-Strauss.
Panelists were Lindsey Berdan, User Interaction Designer, Fluke Corporation; Bill Flora, Principal, Tectonic; Tad Hirsch, Assistant Professor, Interaction Design, UW; Sena Janky, Industrial and Interaction Design Lead, Fluke Corporation; Jenny Lai, Principal UX Designer, Fluke Corporation; Yingzhao Liu, Principal Interaction Designer, Teague Design; Linda Wagner, Research Director, Carbon Design Group; and Skip Walter, CEO, Factor, Inc., and HCDE External Advisory Board Member.
HCDE Academic Advisor Stephanie White was impressed with the professionalism and overall quality of the projects, saying, "The amount of work that went into these projects is apparent, and the level of detail in the prototypes is astounding. Given that our students tend to be unfamiliar with the less structured format of visual design class critique sessions, along with the fact that they only had two weeks to complete these projects, I'm blown away!""
HCDE Chair and Professor Jan Spyridakis put her opinion of the final projects more bluntly: "We have the most creative undergrads ever," and Skip Walter added, "There is something wondrous going on in the world. I am looking forward to where this journey is headed."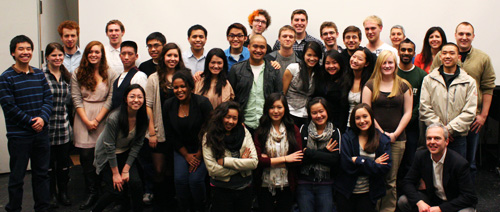 Undergraduate students in the Department of Human Centered Design & Engineering (HCDE). The undergraduate curriculum includes an upper-level course on Visual Communication (HCDE 411), in which undergraduate students learn the basics of visual design. The Winter 2012 Visual Communication course was instructed by Jacob Fleisher (front right).