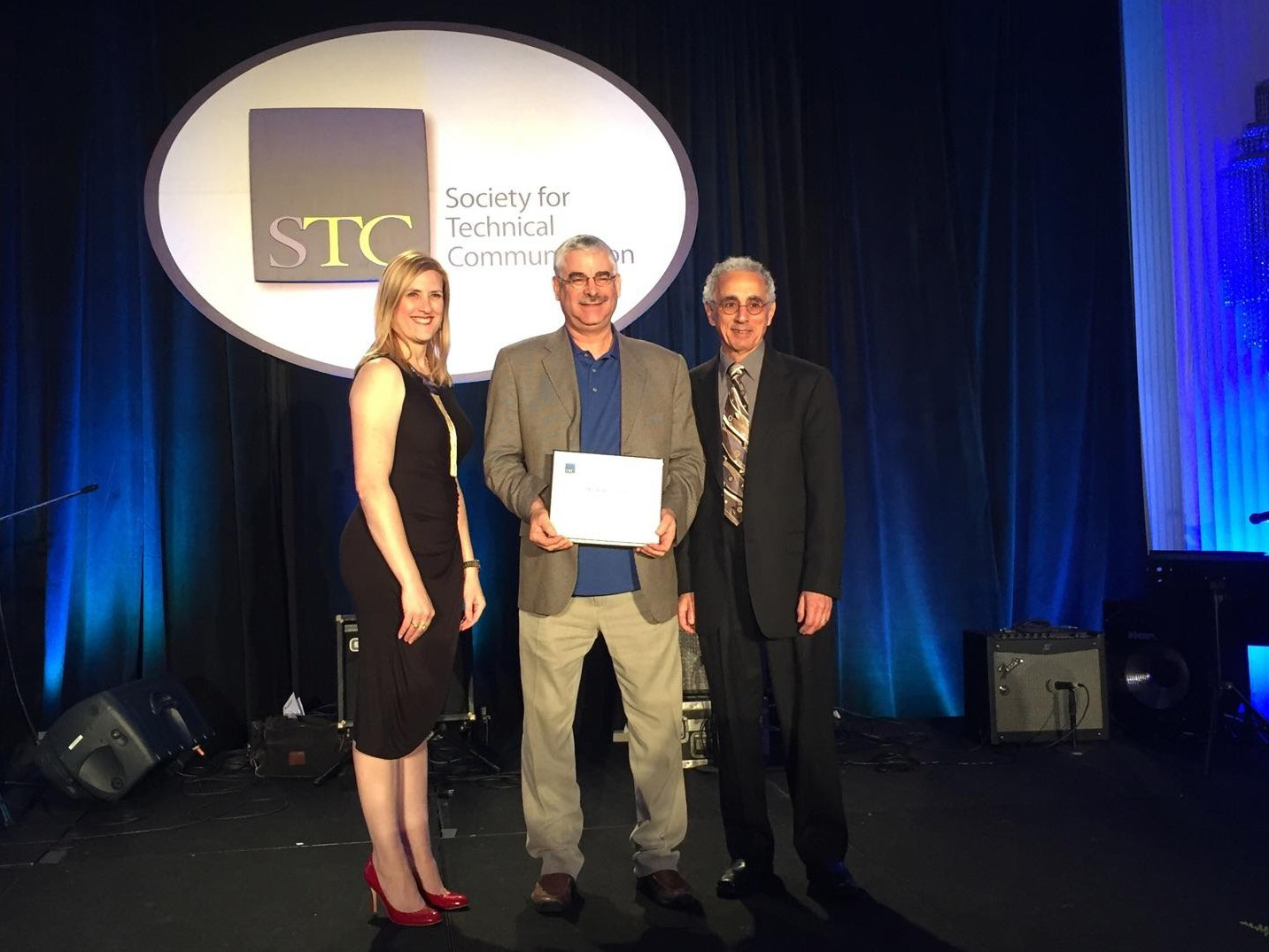 Professor Mark Haselkorn (center) receiving the award at the STC awards event May 10, 2017
Human Centered Design & Engineering Professor Mark Haselkorn, PhD candidate Robin E. Mays, and alumna Professor Rebecca Walton were awarded one of three Distinguished Article Awards at the 2017 Society for Technical Communication's annual awards event. 
Haselkorn attended the ceremony in Washingtin DC on behalf of all the authors to receive the honor on May 10, 2017. 
The article "Enacting Humanitarian Culture:  How Technical Communication Facilitates Successful Humanitarian Work," published in the May 2016 issue of Technical Communication, is a call to the technical communication community to broaden its methods and reach to help facilitate greater understanding and advances within the humanitarian and nonprofit context. The article reports on a longitudinal study with Red Cross Societies led by Robin Mays and the subject of her dissertation research. It reveals how humanitarian practitioners (a) localize how they speak, (b) collaboratively produce written documents, and (c) encourage bottom-up organizational communication.  While many of technical communicator skills and areas of expertise carry over to humanitarian environments, the values and motivations associated with humanitarian culture are central to the effective application of these skills and are, therefore, key to the effectiveness of communication. A challenge, they present for technical communicators to move beyond their current comfort zone of study within the for-profit industry.
Technical Communication, the Society's journal, publishes articles about the practical application of technical communication theory and serves as a common arena for discussion by practitioners. Technical Communication includes both quantitative and qualitative research while showcasing the work of some of the field's most noteworthy writers.
About the Frank R. Smith Award:
The Frank R. Smith outstanding journal article award recognizes the authors of exceptional articles that appeared in Technical Communication during a calendar year. Since 1966, STC has paid tribute to the authors whose contributions have madeTechnical Communication one of the most highly respected journals devoted to the arts and sciences of technical communication.
Judges base their decisions on the article's content and form. Content is judged on the degree to which it represents contributions to new knowledge, new perspectives, or practical communication applications or techniques. Form is judged by the degree to which it embodies effective and appropriate organization; apt language and correct grammar; relevant and meaningful tables and illustrations; and spirit of vibrancy, intensity, conviction, or enthusiasm in transmitting information.