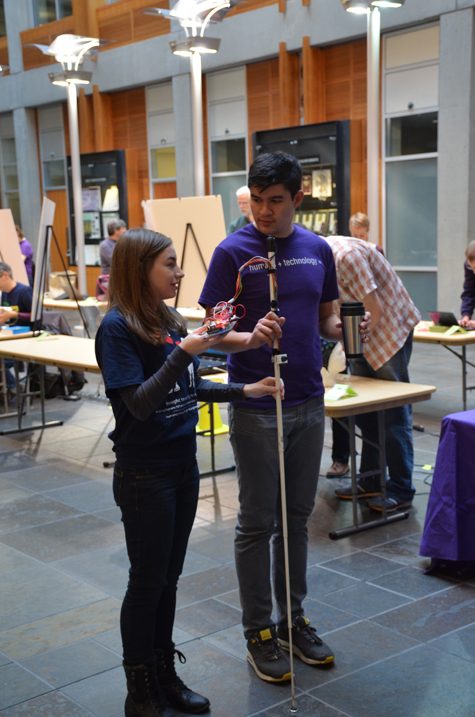 On Saturday, December 6, the Human Centered Design & Engineering (HCDE) Student Association, with help from Senior Lecturer Andrew Davidson and Academic Advisor Alex Llapitan, represented HCDE at the 2014 Computing Open House. HCDE undergraduate students Megan Taylor, Keting Cen, and Perry Meas talked to visiting students and parents about studying human centered design and presented recent student projects. 
Megan Taylor demoed her Hummingbird Mobility Aid project, a sensor-enhanced cane that helps vision-impaired users detect and avoid raised obstacles. Taylor created the Hummingbird in HCDE's Physical Computing and Prototyping course taught by Andrew Davidson.
Taylor's Hummingbird project uses the simple white cane, an invaluable tool for vision-impaired people to identify edges, curbs, and drop-offs, and enhances it with a sensor for detecting raised objects.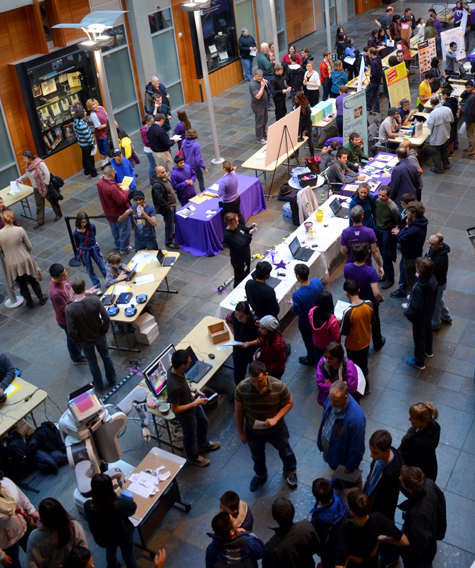 The Computing Open House is an outreach event to introduce high school and middle school students to the broad range of problems computing can solve. Representatives from UW's computing majors and local technology companies attended the event sponsored annually by UW's department of Computer Science & Engineering (CSE).