Students in the Department of Human Centered Design & Engineering (HCDE) have been working with Microsoft User Research since the fall, and they continued working with Microsoft this winter in a directed research group led by HCDE alumnus and affiliate faculty member Michael Berg. Microsoft User Research is a member of HCDE's Corporate Affiliates Program (CAP).
The students focused on revamping Microsoft's User Database (UDB), which has an onerous and outdated user interface and is filled with confusing jargon.
The UDB, which is used to store and manage all information related to Microsoft User Research, has frustrated some Microsoft user researchers so much that they have stopped using aspects of it altogether rather than continue to wrestle with its idiosyncrasies. That's where HCDE students came in. Working in three groups, the students redesigned different features of the UDB by conducting surveys, interviews, and usability tests with current Microsoft employees.
Two groups of students tackled the design of the form used for submitting UDB studies, and one group redesigned the ReportFinder (RF) feature of the UDB. After learning that fewer than 50% of the surveyed user experience (UX) community researchers had confidence in their study forms, the first group approached the UDB study form redesign with a simple goal—to enable users to "submit with confidence." Expanding on that, the group explained that they were hoping to attract both new and returning users and improve the study form's efficiency while simultaneously upholding its Microsoft identity with the new design. They approached the redesign with a wizard model for the study form and were pleasantly surprised by how excited some researchers were by their proposed design.
The second group that tackled the study form design approached the redesign from another angle. From preliminary interviews with stakeholders, the group defined three current problems with the UDB form: (1) it was difficult to schedule ongoing usability studies; (2) the UDB calendar lacks functionality; and (3) navigating the study request form is difficult. They opted to keep the form on one page instead of using the wizard model, but they utilized previously neglected empty space on the form to reduce the form length by half. Using Metro, their proposed redesign is "crisp, clean, and user-friendly," according to one Microsoft researcher.
The third group redesigned the RF feature of UDB, which is used to pull reports from UDB from previous studies, and enables researchers to find, update, and continue their own research or find research done by colleagues. When interviewing researchers, the group found that RF was used reluctantly and was often abandoned in favor of storing information on network drives and internal websites. Researchers found that it was actually easier to contact a specific UX group directly than to refer to RF for reports, which was a veritable "graveyard of dead links, poor metadata, duplicate entries, and numerous errors." The group's recommendations for the redesign went beyond just the RF feature of UDB and spanned multiple areas of UDB, with suggestions regarding user permissions, the study form itself, overall standardization of language and submission practices, and more.
Microsoft researchers were impressed with each group's proposal, with one researcher commenting on the design quality: "I keep asking myself, 'Why hasn't this been done from the beginning?'" This was the second quarter that Berg has directed a research group, and he will continue directing the group for a third quarter this spring. This spring's group will focus on research coordinators at Microsoft who recruit and schedule participants for usability studies and how to improve the system of recruitment.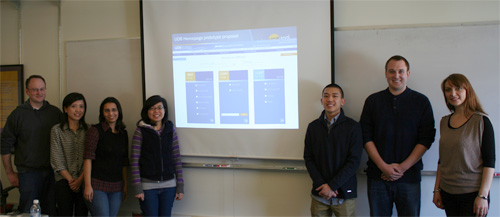 HCDE students worked on the redesign of the UDB as part of their directed research group. This group of students focused on redesigning the UDB study form using Metro and by cleaning up the design of the form. From left: Michael Berg, Amy Zhong, Vibha Panth, Venetia Chow, Joe Nguyen, Peter Kupas, and Mihaela Susan.