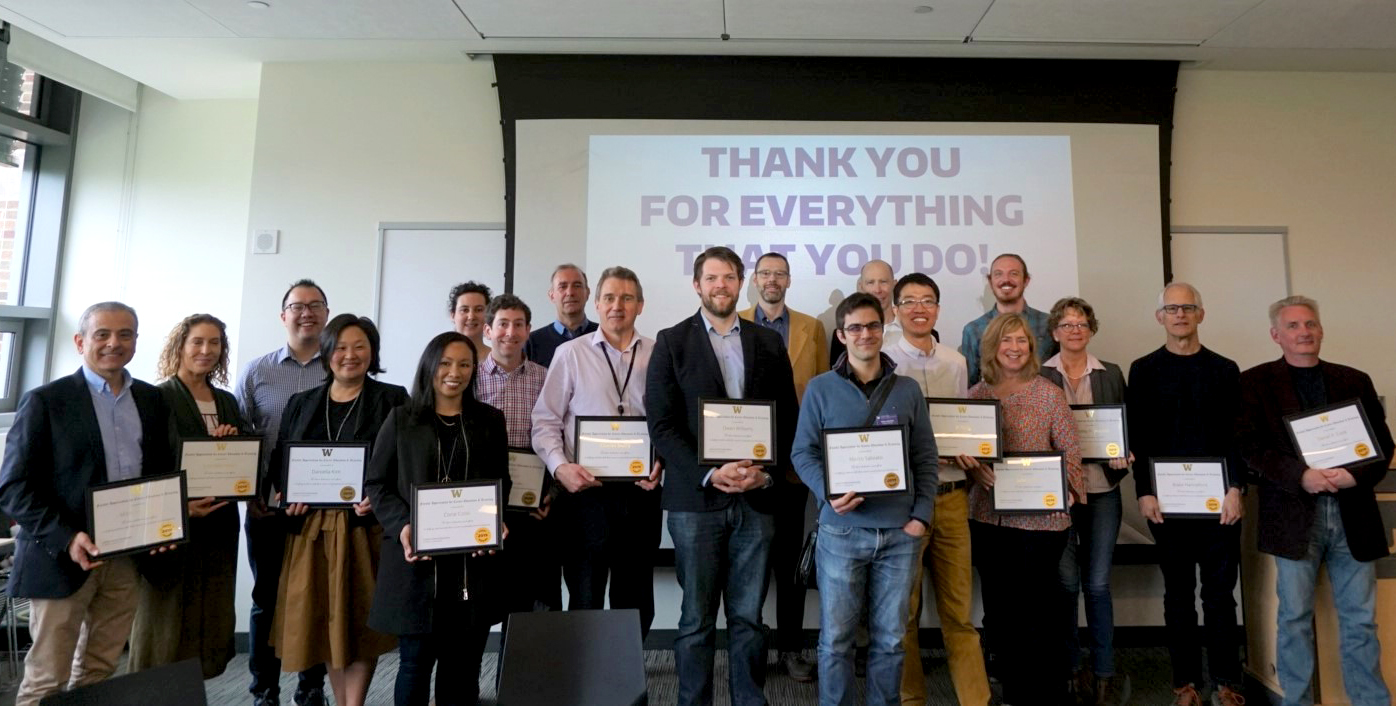 Engineering faculty members at the inaugural FACET ceremony, which recognized faculty who positively impact their students' professional development.
Seven faculty members in the Department of Human Centered Design & Engineering are recognized by the inaugural Faculty Appreciation for Career Education & Training (FACET) program, organized by the College of Engineering's Career Center (CC@E).
In an effort to recognize Engineering faculty members who influence the professional development of their students, the CC@E sought nominations directly from current Engineering students of one faculty member who made a distinguished mark on their career or professional development.
37 faculty members across the College of Engineering were honored in the FACET program for their dedication and support of their students. Recognized faculty from HCDE include the following professors, lecturers, and adjunct faculty:
The faculty honorees were recognized at the 2019 FACET brunch on Thursday, May 2. Three students were invited to attend the program and share remarks about the faculty members they nominated. Garrett Mar, a senior in Human Centered Design & Engineering, was invited to speak about Irini Spyridakis. Mar said that Spyridakis' dedication to students' professional development in HCDE's Advanced Communication course (HCDE 301) was instrumental in preparing him for job interviews, saying: "Irini is the most caring and responsive-to-feedback professor that I have ever met. One of my favorite aspects of being in Irini's class is her ability to really listen to students. Last year, I told her that HCDE students felt they were not prepared enough for design challenges when preparing for design interviewing. She was completely receptive of this feedback and worked with myself and other students to integrate design challenges into HCDE 301. With the help of Irini's teaching and coursework, I was much more prepared for design challenges while interviewing for UX design internships. With the help of the HCDE community and Irini, I'm excited to be starting as a full-time UX Designer after graduating."
At the celebration brunch, the faculty members and career center team discussed how they can work together to build a community where students can grow not just academically, but also professionally.