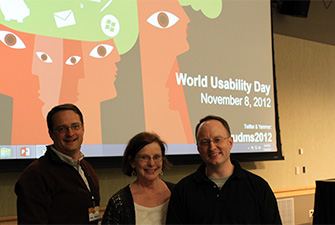 World Usability Day (WUD) is an international day of focus on usability with events around the world. The theme of World Usability Day 2012 was the usability of financial systems and involved activities in more than 40 countries around the world.
The Puget Sound World Usability Day event was co-sponsored by the Department of Human Centered Design & Engineering (HCDE) and Microsoft on November 8, 2012, at the Microsoft Redmond campus. Professor Mark Zachry organized HCDE's co-sponsorship and presence at the event, while HCDE alumnus Michael Berg (MS 2009) organized Microsoft's co-sponsorship of the event with assistance from HCDE MS student Annuska Perkins.
The day was filled with fascinating talks by experts from both the private sector and the University of Washington. HCDE PhD Candidate Jonathan Morgan spoke on the new user experience of Wikipedia, and HCDE alumna Emma Rose (PhD 2011) of Anthro-Tech spoke about the importance of going into the field to evaluate the mobile experience "where the users are."
The HCDE Student Association participated in the event by hosting the registration table, and HCDE Director of Student Services Gian Bruno was also on hand to answer questions about HCDE graduate programs.
HCDE would like to thank Professor Mark Zachry, Michael Berg, Annuska Perkins, and all of the participants for organizing and engaging in such a successful day!