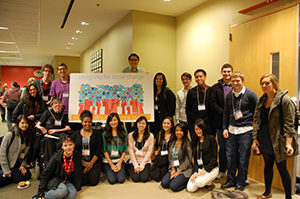 Human Centered Design & Engineering students in front of the World Usability Day poster. Photo by Josie Nutter.
World Usability Day occurs every year on the second Thursday in November. This year, the Puget Sound World Usability Day event was held on November 10, 2011, at the Microsoft Conference Center in Redmond, co-hosted by the Department of Human Centered Design & Engineering (HCDE).
The day was filled with fascinating talks by usability experts, including HCDE PhD student Toni Ferro on the integration of social networking in knowledge work and HCDE Affiliate faculty member Dennis Wixon on facilitating natural user interactions through graphical user interfaces. Other talks focused on Windows phone design, Metro design language, internet security, civic discussion on the web, how designers can impart usability testing methods to non-designers, and player instruction challenges and 3D gestures in Kinect. Talk abstracts and speaker bios may be viewed on the Microsoft World Usability Day website. The talks were also streamed live to an international audience. In addition to the talks, HCDE Director of Student Services Gian Bruno was on hand to tell people about HCDE programs.
HCDE Chair and Professor Jan Spyridakis and Professor Judy Ramey provided the closing address in which Spyridakis noted the "wonderful synergy between industry and academia" that was present in the talks and that the day was filled with "inspirations, insights, and reflections."
The day ended with an HCDE Alumni & Friends Night. The event started with a thank you to Michael Berg and the User Experience Central team for hosting the event and also an announcement of Michael Berg's recent appointment as an HCDE Affiliate Faculty member. HCDE Faculty gave "research madness" presentations—each summarizing their current research in four minutes or less. Presenting were Professors David Farkas, Julie Kientz, Charlotte Lee, Judy Ramey, Jan Spyridakis, and Mark Zachry. Before ending the evening, alumni, faculty, and current students enjoyed appetizers and discussion, as well as some good-natured games of Kinect.
Participation from the HCDE Student Association (HCDESA) was integral to making the day run smoothly, and students helped with registration, the Q&A session, and more. HCDESA Co-chair Julius Magsino commented on the day: "World Usability Day was a great opportunity for students to further explore what HCDE is all about: being able to take one's passion, express it through creative design, and incorporate it into innovative technologies. The presentations allowed us to truly appreciate the care and thoughtfulness put into making the world a more usable place. The HCDE Student Association enjoyed working with Microsoft and the HCDE Department in putting the event together and is definitely excited about next year!"