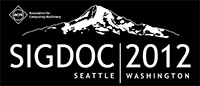 Human Centered Design & Engineering (HCDE) Corporate Affiliates Anthro-Tech and Produxs, Inc. are sponsoring two new interactive workshops for UX practitioners at the 2012 ACM Design of Communication (SIGDOC) conference. Workshop leaders (and HCDE alumni) Suzanne Boyd, Emma Rose and Charlie Claxton will share actionable insights and practical strategies for building user-centered solutions and creating high quality user experiences in organizations large and small.
Anthro-Tech's workshop, titled "Institutionalizing user-centered design: helping organizations see from the outside-in," will be led by HCDE alumna and affiliate faculty member Suzanne Boyd (founder and CEO) and alumna Dr. Emma Rose (Director of Research). Boyd and Rose will teach persuasive approaches for helping organizations see the value of user-centered design, and highlight effective tools for creating and sustaining positive customer experiences. Techniques covered in this workshop will include how to create momentum for change, persuade using data and customer voices, and the power of metrics.
Produxs' workshop, "Designing User-centered Business Solutions," will be led by HCDE alum Charlie Claxton (VP of Creative Strategy). This workshop will focus on Produxs user-centered approach to the design of business intelligence (BI) analytics and reporting tools, drawing lessons and best practices from real-world deployments at Microsoft and other local technology companies. Participants will learn how to leverage both 'big data' and user-centered design to create effective BI solutions and help organizations make informed decisions.
Both workshops are designed to be highly interactive, using brainstorming, wireframing, and card-sorting activities to allow participants to apply the techniques they learn to real-world problems in a small group setting.
"Anthro-Tech and Produxs' workshops will provide an exciting opportunity to learn cutting-edge research and design techniques from leaders in the field. I'll be there all day, taking notes!"—Jonathan Morgan, SIGDOC Workshops Chair & HCDE PhD Candidate
These concurrent, full-day workshops will take place Wednesday, October 3rd, from 9am to 4pm. Registration is open to both conference attendees and local professionals and is available through the SIGDOC 2012 website.