A recent article in The Chronicle, titled "Scholarly Publishing's Gender Gap", discussed the Eigenfactor Project, a University of Washington research effort spearheaded by biologists Jevin West and Carl Bergstrom. The goal of the project is to "use recent advances in network analysis and information theory to develop novel methods for evaluating the influence of scholarly periodicals and for mapping the structure of academic research." As part of the project, the Bergstrom Lab analyzed two million scholarly articles to determine the gender of the authors and calculate the gender gap in scholarly publishing.
Human Centered Design & Engineering (HCDE) Professor Cecilia Aragon and PhD student Michael Brooks helped developed the gender browser referenced in article, in collaboration with Jevin West, Carl Bergstrom, and Jennifer Jacquet. The browser allows readers to view the gender composition of scholarly articles from 1665 to 2011. Aragon and Brooks developed the hoptree visual navigation used in the browser.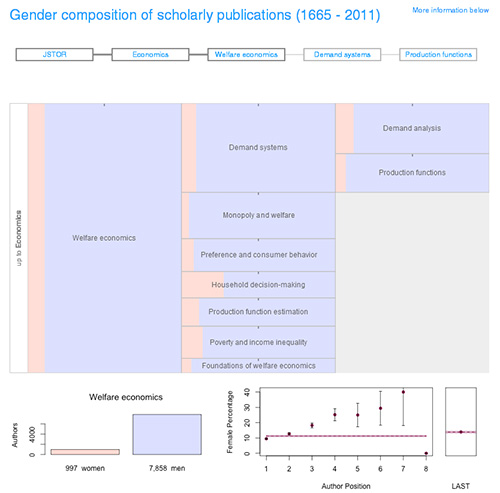 Example of the hoptree visual navigation in the "gender browser" created as part of the Eigenfactor Project.