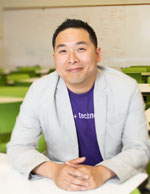 Gary Hsieh, assistant professor in the department of Human Centered Design & Engineering, is joining a multidisciplinary team of experts to discover if a mobile app could be used by pregnant women and healthcare professionals to detect the effects of a mother's medication on her baby's development.
Thanks to a Small Business Innovation and Research grant from the Centers for Disease Control and Prevention, the University of Washington research team of Hsieh; Janine Polifka, department of Pediatrics; and Carol Collins, School of Pharmacy, has joined forces with software company RightAnswer.com to discover the feasibility of such an app and develop a prototype.
Approximately 40,000 infants are born each year with birth defects from medication exposure. The researchers hope to lower that number by developing an immediate and reliable way for mothers and doctors to understand the risks associated with over-the-counter and prescription medicine, throughout the stages of pregnancy.
Hsieh is beginning consultations with healthcare providers to determine their needs and information requirements when providing medication council with pregnant women.