HCDE MS alumnus Matt Shobe remains close to the department.
Matt Shobe received his Master of Science from the Department of Human Centered Design & Engineering (HCDE) in 1996. He founded the department's Shobe Prize in 2010.
Two experiences as a graduate student in HCDE stand out as being particularly transformative to Shobe—his first class in the program, taught by Professor Mary Coney (now retired), and one of his research assistantships.
In HCDE 501, Coney "achieved the impossible—transforming [her students] into enthusiastic critics of rhetoric in supposedly dry technical discourse." The class heightened Shobe's regard for "understanding and appealing to an audience's sense of humor and delight" in his work, and he applied this to his writing, allowing him to "write to win, or at least win over a few new fans while failing quickly."
In the research assistantship he completed, Shobe gathered data at 911 call centers in order to improve the systems that dispatchers use when tracking and responding to calls. After doing "listen-in" sessions, he observed that, even with cumbersome, outdated systems, the dispatchers had learned to manage their responsibilities competently and efficiently. The experience was especially eye-opening, said Shobe, because it demonstrated that "'newer' doesn't automatically mean 'better' without deep understanding of context and practice."
Even before attending graduate school, Shobe was beginning to realize the potential of combining writing, design, and production for the web. Thus it comes as no surprise that Shobe's résumé reads like an entrepreneur's dream.
After completing his MS, Shobe headed to Chicago and joined with three other co-founders to create Spyonit, a web service offering alerts to the general public. This fed directly into the development of FeedBurner in 2004, an RSS feed management and analytics service acquired by Google in 2007. At Google, Shobe worked on many of the company's tools for publishers and advertisers. In 2011, Shobe joined BigDoor, which provides loyalty programs as a service to digital media publishers. He continues to contribute as the company's Design Advisor while working on several new startup projects.
In addition to his own entrepreneurial ambitions, Shobe began advising and investing in other startups, through both TechStars Seattle and Startup Weekend. This helped him better understand Seattle's startup culture, but also allowed Shobe to give back to the startup community from his own experience and network.
The format of TechStars then inspired him to found and sponsor the Shobe Prize in 2010, a design competition for University of Washington (UW) students in entrepreneurial leadership. In this competition, student teams test their skills by submitting a proposal for a tech-focused project. The winning team is awarded a grant, office space, and one-on-one mentoring from industry experts and from HCDE faculty.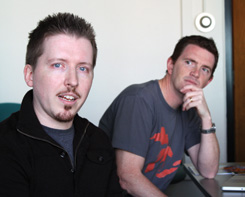 Human Centered Design & Engineering (HCDE) MS student Allan Bathurst (left), one of the recipients of the 2012 Shobe Prize, discusses the final prototype of his team's product, Conversationalist, as Matt Shobe looks on. Bathurst's team members (not pictured) were MS student Mike Bulajewski and Robert Wlodarczyk (MS 2012).
In its third year, Shobe and his judging panel have just selected the next round of winning projects: GoGo Games by HCDE PhD student Alexis Hiniker and Stanford University students Joy Daniels and Heidi Williamson; and Feedback Sandwich by Computer Science & Engineering PhD student Katie Kuksenok and HCDE PhD student Michael Brooks. The two teams will receive mentoring from Shobe, faculty, and industry professionals over the spring and summer quarters and pitch their final prototypes to the judging panel next fall.
Shobe's support for HCDE goes further than the Shobe Prize, with Shobe serving on the department's External Advisory Board, where he advises HCDE faculty to help advance HCDE's research, teaching, and service goals.
Shobe also frequently lectures in HCDE classes, and he gave the commencement address at HCDE's 2012 graduation ceremony. He has incorporated what he learned as a graduate student into his daily work, and he emphasizes this in his mentoring and guest lectures. In a guest lecture to HCDE's pilot capstone course last year, Shobe told HCDE MS students to go beyond satisfying their users—they should aim to delight users.
HCDE Professor and Chair Jan Spyridakis commented on Shobe's commitment to HCDE: "Matt Shobe is one of our most dedicated alumni. He is an inspiration to our students, having founded the Shobe Prize. Matt can frequently be found mentoring our students through guest lectures in our classes. It is a pleasure to work with Matt and we are honored by his dedication to the department and to this field."
The College of Engineering acknowledged this dedication by selecting Shobe as a recipient of the Diamond Awards in 2009. The College's Diamond Awards honor outstanding alumni and friends who have made significant contributions to the field of engineering. Shobe also received the 2012 Mikey Award from HCDE for his dedication to the department.
This article was originally published in the 2013 issue of Designing Up.