Capstone class explores UX design from conception to high fidelity prototypes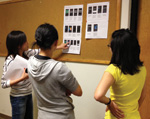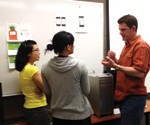 Top photo: Human Centered Design & Engineering (HCDE) MS students Yunjia Zhong (left), Yi-chen Sung (center), and Venetia Chew review Zhong's project. Bottom photo: HCDE MS students Venetia Chew (left) and Yi-chen Sung discuss their project ideas with Matt Shobe (MS 1996).
Students in the Master's Program in Human Centered Design & Engineering (HCDE) participated in a pilot capstone class last spring, instructed by alumni Rebecca Destello (MS 2011) and Ario Jafarzadeh (MS 2006). The goal of the capstone course was to improve the students' UX knowledge and skills using a structure that simulated the life cycle used in a typical real-world project. Students were encouraged to pick projects they were passionate about to keep the work engaging and relevant. The pilot class was the first time that MS students combined the creation of a portfolio with a final capstone project.
Destello and Jafarzadeh guided students through a structured design process that covered all areas of product development, from ideation to sketching and paper prototyping to high fidelity prototypes, with each week of the class focusing on the next phase of the process. Destello, a Usability Analyst at Nordstrom, and Jafarzadeh, a User Experience (UX) Designer at Amazon, conceptualized and co-taught the course.
Destello and Jafarzadeh also brought in experts from the UX field to speak weekly on topics related to all stages of UX design. Guest speakers included Adam Baker, Scott Berkun, Sally Carson, Matt Carthum (MS 2008), Ashlimarie Dong (BS 2011), Braden Kowitz, Yelena Nakhimovsky, Puja Parakh (MS 2011), and Matt Shobe (MS 1996). Students also toured Zaaz (absorbed by Possible in 2012) to see what UX design looks like "in the wild." The class culminated in presentations of the final projects and resulting portfolios, with faculty and guest speakers invited to review the students' work.
One of the project requirements was that students bring at least one element of "delight" into their designs, a concept introduced by Shobe. The idea behind "delight," Shobe says, is to invoke feelings of joy in the customer, provide a sense of authenticity for the product as well as "replay value," and create a sense of affinity on part of both the customer and the designer for the product and/or company. HCDE faculty and audience members who watched the final presentations were—quite appropriately—delighted by these elements, which manifested themselves in various, creative ways. For example, some projects included clever responses when users encountered an error (e.g., a 404 page), while others included surprising experiences for the user during normal use of the product, such as animation during moments of transition.
Students focused on a diverse set of ideas. One MS student, Venetia Chew, aimed to raise awareness of and better motivate people to get into the habit of recycling. Her goal was to create something "motivational, educational, and experiential," so Venetia came up with the idea for an interactive recycling machine replete with a green monster that "eats" recycled cans.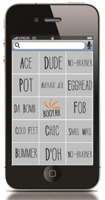 Human Centered Design & Engineering (HCDE) MS student Yoel Sumitro designed a mobile app called "Booyah" for his capstone project to help international students learn informal American English.
Another student, Yoel Sumitro, designed a mobile app called "Booyah" to help international students studying in the United States learn informal, slang American English in a fun, interactive way. Sumitro incorporated delight into his design by allowing and subsequently animating the randomization of word icons. Jafarzadeh was particularly impressed with Sumitro, commenting that he "really took to heart the message Rebecca and I were trying to get across by picking a project that was meaningful to him and letting some of his personality and playfulness express itself in his final design."
A third student project, by Archana Suresh, was a mobile app called "ShopHelp," designed to provide users with a personalized, interactive, and convenient shopping experience and bridge the gap between online and in-store shopping. Suresh implemented her element of delight in the app's search feature so that when a user accidentally hit the search button without entering a term, the app responded with a clever error message.
Destello and Jafarzadeh both enjoyed watching the evolution of the student projects from conception to final prototype, but more than that, Jafarzadeh says he loved the growth in student confidence that he observed over the course of the class. By the end of the quarter, he says, the students were "talking and acting like UX professionals." Destello echoed Jafarzadeh's opinion, saying that she enjoyed observing the evolution of the students' understanding of UX design.
According to Jafarzadeh, one of the key components of the course that made it a success was weekend office hour sessions that both instructors offered, giving students individual feedback on their projects. Students who took advantage of the sessions ended up with more effective and cohesive products at the end of quarter, and both Jafarzadeh and Destello say they would include more opportunities for one-on-one student-instructor consultations in future iterations of the class.
Students in the pilot course also called it a success. Chew commented that the class was both helpful and practical, and that she believed it would aid her in both building her portfolio further and in obtaining a job in the UX field after graduation. Sumitro went further, saying that this class has been his absolute favorite in the HCDE curriculum thus far, and he is confident that his design skills have improved significantly as a result of the class. HCDE plans to continue offering a capstone class in the Master's curriculum and will also develop a capstone component for the undergraduate program in the future.