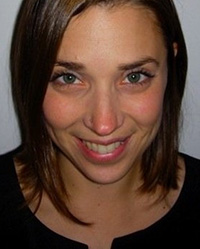 Human Centered Design & Engineering (HCDE) MS student Deidre Girard will be awarded the UW Libraries Student Employee Scholarship on May 18. The UW Libraries Student Employee Scholarship is awarded to student employees who exemplify the mission of the library by enthusiastically supporting its resources and services. Applicants submit a transcript, an essay about how working in the Library has impacted them, and a letter of recommendation from their supervisor. Awardees are then selected by a committee of librarians and library staff based on their originality, creativity and enthusiasm.
Deidre Girard decided to pursue her MS in HCDE in order to more deeply explore the impact of digital technology and social media on learning and engagement in higher education. As a graduate advisor in the Department of Aeronautics & Astronautics at UW, much of the knowledge she has gained in the HCDE program has been integrated into her career through projects such as creating educational podcasts and building a social media image for the department.
In Autumn 2010, Deidre also began working part-time in Special Collections at the UW Libraries as a student researcher for rare and historical items. In this role, Deidre has had the opportunity to conduct research on unique books, documents and ephemera, write descriptions and biographies for the library catalog, and learn processing techniques for library collections. Upon graduation, she hopes to apply her diverse skills to create digital archives and interactive media for informal learning environments. While in the HCDE program, Deidre has also written for re:Design, the HCDE alumni magazine, and co-produced the video series What is HCDE?, which introduced the HCDE department after its renaming in 2009.
Congratulations to Deidre for receiving this prestigious award!