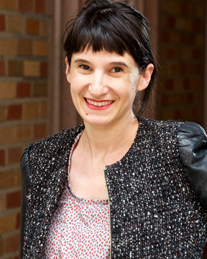 The Department of Human Centered Design & Engineering (HCDE) is pleased to announce the promotion of Dr. Daniela Rosner to Associate Professor with tenure, effective with the 2019-2020 academic year.
Rosner co-directs HCDE's Tactile and Tactical Design Lab (TAT Lab), where she works with students and collaborators to discover new opportunities for sustainable technology development, broaden the diversity of design and engineering education, and extend theoretical frameworks that further our understanding of design and social change.
In 2018, Rosner published Critical Fabulations (MIT Press), in which she investigates new ways of thinking about design's past to rework future relationships between technology and social responsibility.
Rosner's work has been supported by multiple awards from the U.S. National Science Foundation, including an NSF CAREER award. Rosner earned her PhD from the University of California, Berkeley. She also holds a BFA in Graphic Design from the Rhode Island School of Design and an MS in Computer Science from the University of Chicago. Rosner serves on the Editorial Board of Artifact: Journal of Design Practice and as the editor of the "Design as Inquiry" forum for Interactions Magazine, a bimonthly publication of ACM SIGCHI.