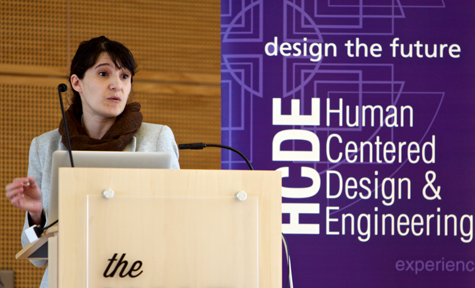 Daniela Rosner, Assistant Professor in Human Centered Design & Engineering, has won a five-year, $500,000 CAREER Award from the National Science Foundation to support her research on computer-assisted fabrication and craft.
CAREER awards are the National Science Foundation's most prestigious awards for junior faculty. They are awarded to teacher-scholars for their excellence in research and education, and the integration of the two.
In Rosner's NSF proposal, "CAREER: Enhancing the Integration of Craft and Computing," she asks the question "How might integrating techniques for social communication into design tools enable novel forms of expressivity, engagement and understanding?" Through this work, she will investigate current practices behind making with the goal of enabling the development of next-generation digital craft.
Rosner describes the potential contributions of this research in her NSF proposal. "I believe the impacts of this research reach far beyond traditional craft-based forms of creative activity such as woodworking or knitting. Opportunities for creation pervade our daily lives in domains as varied as civic engagement, sustainability, and health. This proposed research represents an important step toward enabling new forms of value and engagement in these other domains. In addition, through our integrated education and outreach program, I plan to use our digital craft techniques to strengthen classroom learning and participation."
Rosner appreciates the NSF's recognition of her work, saying "I am truly honored to be selected for the distinguished CAREER Award. Through this work I hope to strengthen the alliance between humanities and engineering research and teaching, and make a significant impact on the fields of Human-Centered Engineering, Design, and Science and Technology Studies."
More about Daniela Rosner: