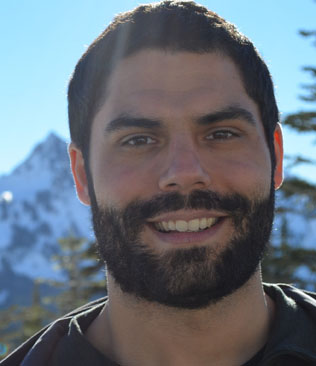 The Department of Human Centered Design & Engineering (HCDE) is thrilled to announce that HCDE PhD student Daniel Perry has been awarded a UW Graduate School Presidential Dissertation Fellowship for the 2014-15 academic year.
The Graduate School Presidential Dissertation award is intended to assist PhD candidates in the final stages of writing and completing their dissertations, and is established with support of the University President.
Perry's dissertation examines how game-based learning experiences vary based on the specific perceptual, affective, and cognitive capacities of each learner. His research builds upon a co-design process and studies with high school students as he developed the game MAX5, a computer game where players use bioinformatics tools to stop a lethal influenza outbreak in the game.
"The challenge for game designers and researchers that want to engage diverse populations of students in a collaborative game is to account for their differing interests and learning needs while still making the game fun and enjoyable," Perry said. He hopes that his research will be of use to other game designers and educators who want to broaden participation to reach diverse types of learners. Perry is advised by HCDE Associate Professor Cecilia Aragon, director of the Scientific Collaboration and Creativity Lab.
Daniel Perry is the first HCDE student to receive a Graduate School Presidential Dissertation Fellowship.