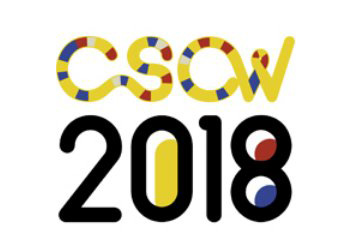 The department of Human Centered Design & Engineering strives to enrich the education of our students by supporting travel to conferences and workshops. In late November 2018, several PhD HCDE students received department awards to travel to New York City's Hudson River (Jersey City) to attend and present at the 21st ACM Conference on Computer-Supported Cooperative Work and Social Computing (CSCW).
Students Michael Beach, Os Keyes, Kenya Mejia, Andrew Neang, Wendy Roldan, and Yihan Yu reflect on their experiences at 2018 CSCW.
Departmental support for student travel funding is in part thanks to donations made to the Human Centered Design & Engineering Fund for Excellence. Please consider making a gift today!
Michael Beach, HCDE PhD student
Conference attendee, CSCW 2018
2018 CSCW conference / Photo by Michael Beach
I had the privilege of attending the 21st ACM Conference on Computer-Supported Cooperative Work and Social Computing (CSCW) conference, held at the Hyatt on New York City's Hudson River (Jersey City). This was my very first CSCW conference experience. I did not have a published paper or poster this year, but I was encouraged to attend by my advisor Charlotte P. Lee so I could get a sense of what the conference was like (for when I present in future years) and to network with others in the field.

Drew Paine speaking at 2018 CSCW conference / Photo by Michael Beach
It was really exciting to be able to see a wide range of researchers talk about their fascinating work and the mechanics of their presentations. I was thoroughly impressed by the more junior level researchers who were nervously presenting for the first time as well as the seasoned researchers who could engage the audience with such grace and confidence. It made me realize, even though presenting at a prestigious conference like CSCW may be a challenge for someone with a fear of public speaking (e.g. myself), it is an attainable goal. I am actually feeling excited about the possibility of presenting.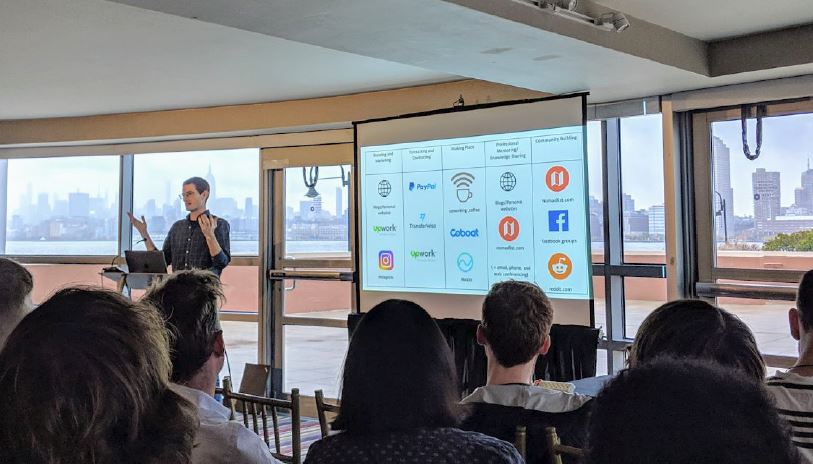 Will Sutherland speaking at 2018 CSCW conference / Photo by Michael Beach
Our department was well represented at the conference (see two photos above). Drew Paine, an HCDE PhD alumnus who is now working as a postdoc at Lawrence Berkeley Lab, presented work that was co-authored with Charlotte P. Lee. And, Will Sutherland, fellow first year PhD in HCDE, presented work from his previous institution.
I am looking forward to representing HCDE at future conferences in the coming years.
Dharma Dailey, HCDE PhD student
Workshop presenter, CSCW 2018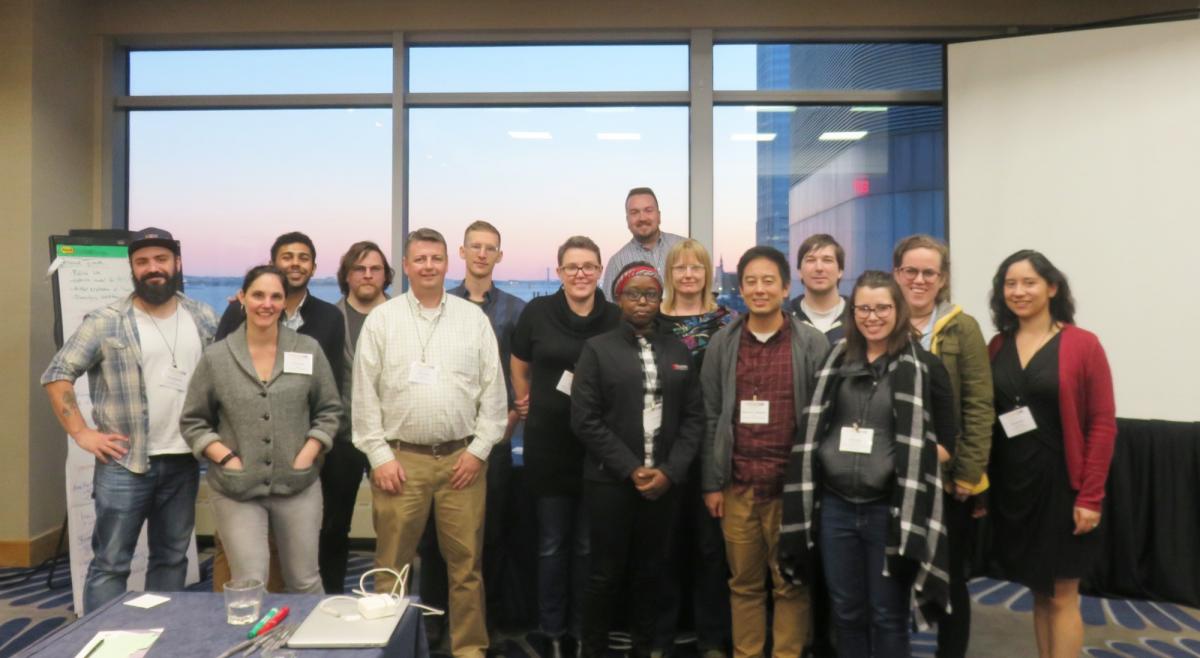 At CSCW 2018, I was fortunate to co-organize a workshop with Jean Hardy, Susan Wyche, Norman Makoto Su called Rural Computing: Beyond Access and Infrastructure. We were joined by 11 HCI scholars from across the U.S., Europe, and Canada who reflected on their rural research. From setting up computer clubs in the mountains of Morraco, to helping rural Canadians use software, from the role of big data in agriculture, to the role of rural users in crowd work, this workshop delivered on its promise to highlight the rich and varied ways HCI research intersects with rurality.
To stimulate our discussion with a different perspective, we invited Dr. Ethan Schoolman, Assistant Professor in the Department of Human Ecology at Rutgers University to talk to our group. Dr. Schoolman spoke about his ongoing research at the intersection of local food systems and rurality. This led to a productive discussion about methodological and interdisciplinary approaches to studying rural communities.
In all, the workshop was a productive space for advancing scholarship on a topic that is gaining interest among HCI researchers.
Os Keyes, HCDE PhD student
Conference presenter, CSCW 2018
The prospect of CSCW 2018 was somewhat heartstopping, since it represented not only my first conference in this field but also my first presentation of a paper (and a solo-author paper, to boot!). I worried that I would - to paraphrase the joke about the inflatable student in an inflatable school full of inflatable people who brings a pin in one day - let myself down, my community down, and the entire department down.
These worries were quickly eased by the friendliness of the community at CSCW, who (problems with gender-neutral bathrooms and prayer rooms aside) quickly made it a welcoming and interesting space. The thoughtful and welcome reception my talk received far-exceeded my expectations, and it was a delight to meet so many interesting people I knew from their papers or Twitter presences. I am excited to return next year!
Kenya Mejia, HCDE PhD student
Conference presenter, CSCW 2018
This was the first time I attended a conference, and to add more fun to it, I also had a talk to give, therefore I was nervous for multiple reasons. Here is some information I gathered through asking others about the conference beforehand and through my experience at the conference.
Dos
Ask questions. Presenters have worked hard on their paper and talk, they would love to know you are interested. 
Meet students from other schools. These are your peers who will be in academia with you for the rest of your life.
Say hello to someone whose work you admire. This definitely sounds intimidating, but this is one of the few times you will be in the same room.
Rest when you need to. As an introvert myself, this conference was overwhelming. I made sure to re-energize so that I would have the energy for important conversations.
Go to panels over talks. If you have to decide between two, you can always read a paper, but panels are one-time things.
Plan the talks you want to go to ahead of time. Depending on how big the conference is, there could be multiple talks going on at the same time. 
Practice your talk if you are giving one. Make sure you
Drink enough coffee. If coffee is your thing, then you will definitely need extra. Conference days are long, there is a lot of socializing, and a lot of sitting down and listening.
Dress Comfortably. Again, these are long days, so wear comfortable clothes and shoes. Ask others what the dress code is. At CSCW, it ranged from casual to business casual.
Don'ts
Hesitate to walk up to a presenter...they're friendly. Most are students like you. And they would appreciate that you are interested in their work.
Forget to book flights and hotel early. Prices change quickly, so the earlier you book, the best deal you will get. This also means you are able to apply to funding if you plan ahead.
Hesitate to ask for someone to connect you with others. People are happy to connect you with others.
Feel like you have to stay in one room for all the talks. People walk to other rooms all the time. Make sure you time it so that you leave during the Q&A to not interrupt as much. Some rooms are smaller than others, so any noise can be distracting.
Memorize your talk. Generally speaking, you will have access to your presenter notes. You should not rely on your notes nor your memory. Practice enough to have your notes and memory assist you if you freeze. 
Forget to have fun! This is a time to learn about what other people are researching, meet people who are interested in similar work, and celebrate the knowledge the community is creating. Enjoy the new city. You will always have to go back to your work when you return.
* Some of this advice is from talking to others (Julie Kientz, Wendy Roldan, Edward and many others)
Andrew Neang, HCDE PhD student
Conference attendee, CSCW 2018
Although I was not part paper or poster for CSCW 2018, I chose to attend the conference in order to primarily work on establishing and cultivating relationships with other CSCW contributors and attendees. One the greatest benefits of attending the conference was the opportunity to connect with faculty and students from other institutions who share similar research interests and philosophies. Sometimes those connections were made in the hallways of the conference venue, over coffee or even on the subway ride to NYC. On a number of occasions, I had the chance to interact closely with leaders in my field for an extended period of time and explore the potential for future collaborations on publications and exciting new research endeavors.
Being at the conference and seeing the breadth of attendees and presentations also provided invaluable advice and inspiration on how to best navigate the current stage of my research work. I found attending concurrent presentation sessions on a topic that I was less familiar with, often helped me learn about a different research method or skill that could be innovatively applied to my area.
Lastly, attending this conference was an opportunity to have fun as a student. Going to the side events (dinners, gatherings hosted by other schools) offered a chance to learn something new (related or not to my research) and helped with the nerves and anxiety I had about more formal conference networking. These events allowed me to see the person behind the research expert and make some new friends in the process.
Wendy Roldan, HCDE PhD student
Conference presenter, CSCW 2018
I attended the Computer Supported Collaborative Work Conference in November 2018 with two goals: present our search and brokering paper & connect with new members of the HCI community. By attending this conference, I met new professors, graduate students, and peers. I will cultivate these connections with to learn with and from as I continue my journey as a scholar in HCI. Attending CSCW, (a) opened up new research questions, (b) furthered my understanding of equity, inclusion, and diversity within HCI and (c) allowed me to discuss research with scholars from around the world.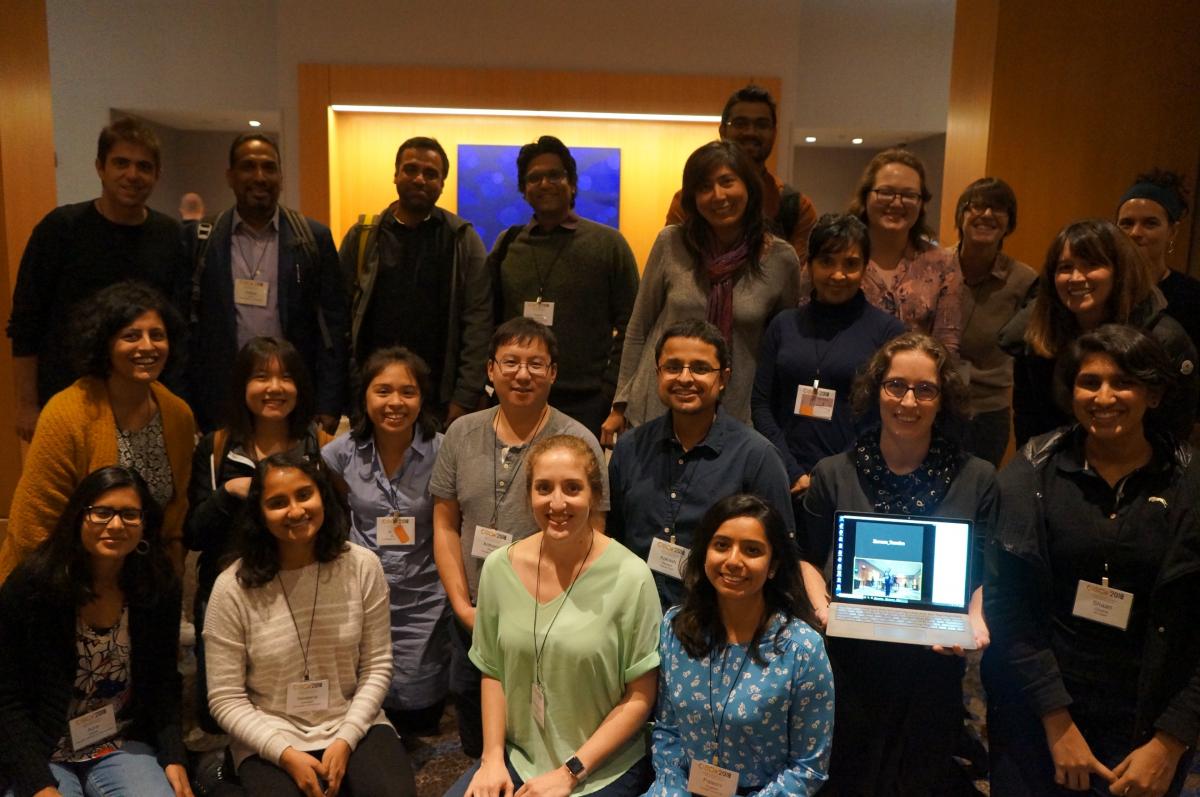 This picture shows the group of scholars that I engaged with during a day-long workshop called solidarity across borders. This workshop was beneficial to my progress as a scholar because I had the chance to critically question how we do research with participants who are at the margins, how we bring this research at the margins to the center, and how we do this work ethically and responsibly. In order to participate in this workshop, I wrote a positionality paper, something I had never done before which felt personal and political. Writing this positionality paper pushed my thinking toward how I articulate my stance on intersectionality within human computer interactions as well as how I weave in my personal story of doing work on the margins. Meeting these amazing people, talking about the writings of critical scholars in the field like Sara Ahmed and Mohanti, and creating strategies for moving forward felt powerful.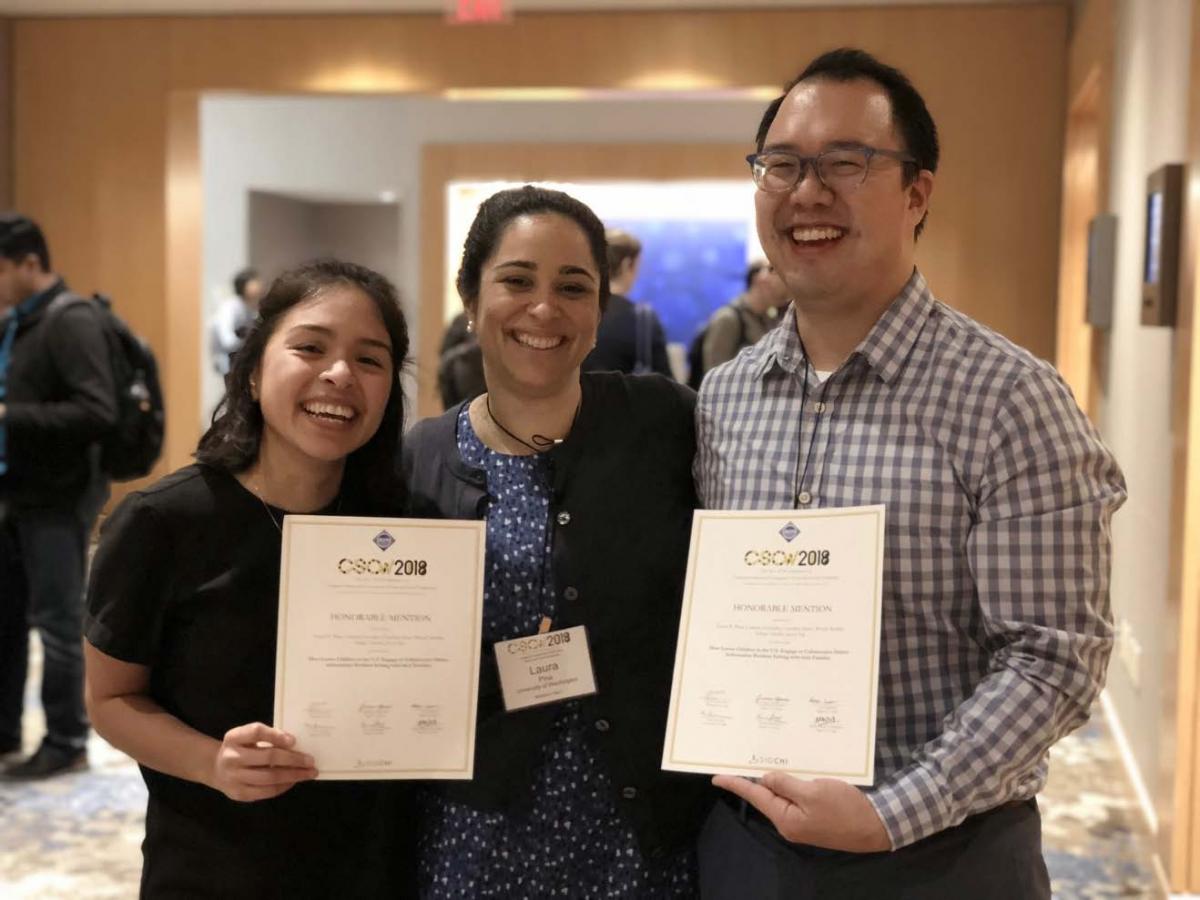 Another big accomplishment from this conference is that our paper, How Latino Children in the U.S. Engage in Collaborative Online Information Problem Solving with Their Families, was recognized as an honorable mention paper in CSCW. Hearing Laura, the post-doc that welcomed me first into this research team, present our paper that represented how Latino families search together was an invaluable experience. Among many things, I learned presentation techniques from her. Finally, being in the audience while our paper was presented gave me many more ideas for future research.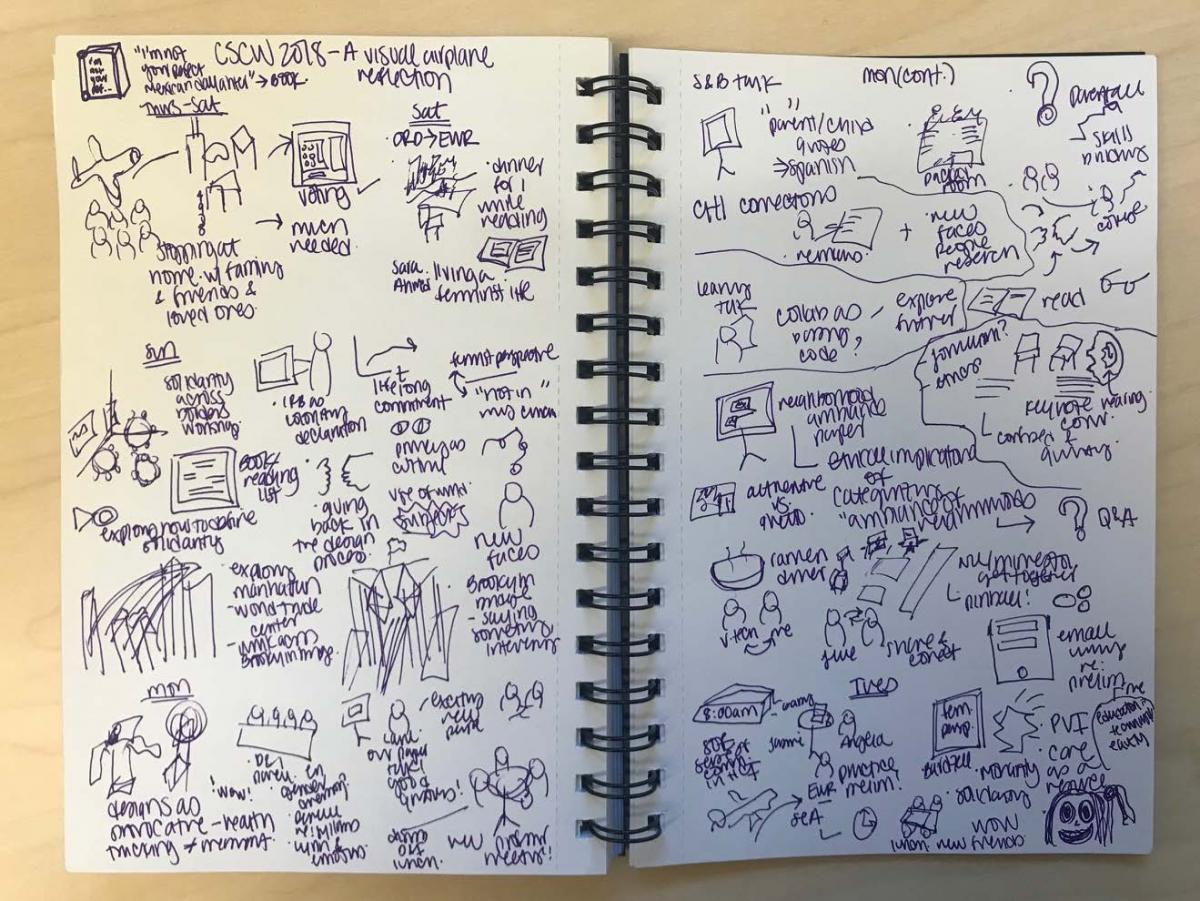 I recorded this reflection on the flight home from New Jersey to Seattle. There were many memorable moments from this conference that occurred during paper presentations, in the hallways, over lunch, and during panels. Throughout my experiences at CSCW, I kept the research topics of equity, inclusion, research at the margins at the forefront of my conversations. I believe I took advantage of many opportunities at CSCW from asking people to give me feedback for my preliminary exam presentation, to lunch reunions, to asking question during paper presentations and keeping up on social media (Instagram and Twitter) with what my thoughts were during the conference.
Yihan Yu, HCDE PhD student
Conference presenter, CSCW 2018
Attending my first CSCW conference, the 21st ACM conference on Computer-Supported Cooperative Work and Social Computing in Jersey City is indeed a rewarding experience. First, I want to thank the HCDE department for making my travel possible. My collaborators presented our recent work on visualizing cross-cultural perspectives of data privacy in Latin America as a Place for CSCW Research workshop. We got the opportunity to meet each other in person for the first time since we are living in different countries (U.S. and Chile). We had a great time together, attending conference sessions, discussing our research questions, and making plans for further studies based on what we learned from the conference.
Besides, I feel that the CSCW is a super welcoming community for first-year students to start building connections. I talked with other scholars during breaks and the conference banquet. I was surprised that they were willing to know a first-year Ph.D. students' research projects and provide high-quality feedback. Some of them gave me detailed suggestions on how to find out my research topic and train myself to be a successful independent researcher in the following four to five years. I also gathered with my old friends and made new friends. All in all, it is a tremendous icebreaking experience, and I looking forward to attending the next CSCW.