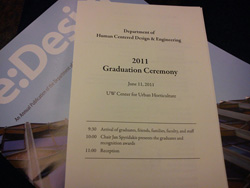 Graduating students in the Department of Human Centered Design & Engineering visited the Center for Urban Horticulture on Saturday, June 11, for HCDE's 2011 Graduation Ceremony.
The Class of 2011 included 33 students graduating with a Bachelor of Science, 41 students graduating with a Master of Science, and 2 students graduating with a Doctor of Philosophy. The full list of graduates is below.
In addition to these degrees, Awards of Excellence were presented to graduating students: graduating senior Steven Naranjo and Dr. Emma Rose for demonstrating special strength in innovation; graduating senior Darivanh Vlachos and graduate student Robert Racadio for demonstrating special strength in leadership and engagement; and graduating senior John Porter III and graduate students Dr. Rebecca Walton and Doug Divine for demonstrating special strength in academic excellence.
Faculty Innovator Awards, originally announced in March, were also officially presented to Professors Mark Zachry, Charlotte Lee, and Beth Kolko. Graduating senior John Porter III's parents, Susie and John Porter II, were named "Honorary Scholars in HCDE" for their commitment to the program. John Porter III will be entering HCDE's PhD program in the fall.
The 2011 Myron L. White Award (aka the "Mikey") was given to Michael Berg. Beginning in 2004, HCDE has annually awarded the Myron L. White Award, or the "Mikey," to an international leader in the field of HCDE and a dedicated friend to the department. Berg joins the ranks of other distinguished recipients of the award.
Reflecting on the day, Department Chair Jan Spyridakis commented, "What a beautiful graduation day! So many smiling graduates. So many proud parents! HCDE is so pleased to send out its newest group of well-prepared graduates to local and nonlocal companies."
Please join HCDE in congratulating the class of 2011!
---
The Class of 2011
Bachelor of Science
Hiruye Bereket Aradom
Michael Arcari
Jaret Michael Basden
Nathan Bilbao
Brennen Paul Birch
Claire Carlson
Colgan Chenghing Chan
Ashlimarie Tuliao Dong
Charles Paul Harris-White
Kelsey Hentges
William Ho
Cristina N. Kelley
Patrick Louis Kreuch
Phun Siu Lang
Ty Le
Kevin Kyeming Louie
Vanessa Yi-Sha Ma
Robert Anthony Maharaj
Steven Naranjo
Maureen Nash
Joshua Tien-Yan Ng
Alexander Nguyen Pham
John R. Porter III
Ashley Marie Riel
Kelly Schalow
Calder Thami
Jaleesa Trapp
Darivanh Nang Phanivong Vlachos
Minh Toan Ngoc Vu
Jessica Wang
Jacob Ryan Warren
Christiana Wu
Aijia Yan
Master of Science
Tyler Adams Nina Marie Altman
Silvia Amtmann
Laura M. Barboza
Alena Benson
Shawn Robert Bertagnole
Fernmarie Brady
Linda A. Brooking
Kate M. Deeny
Rebecca D. Destello
Doug Divine
Char Easter
Karl Frantz
Charles Lavon Garrett
Deidre Girard
Chelsey Glasson
Rhonya Aly Hamada
Steven Huarte
James Humphrey
Linda H. Hwang
Colin P. Klein
Caroline A. Kunkel
Lindsey Latiolais
Kate MacCorkle
Todd A. Mackey
Travis Martin
Sean Michael Mitchell
Eric Charles Nordlund
Jamie Ourada
Puja Parakh
Kennen R. Pflughoeft
Robert Racadio
Paul C. Riggins
Dawn K. Sakaguchi
Heidi Sales
Ashley A. Thompson
Michael James Watt
Catherine White
Amy Woodfin
Kelly Woznicki
Telle Zeiler
Doctor of Philosophy
Emma J. Rose
Dissertation: Designing for Resource-constrained Populations: Considerations for Designers and Researchers
Rebecca Walton
Dissertation: Transitioning Information and Communication Technology for Development (ICTD) Projects from Research to Implementation