March 18, 2020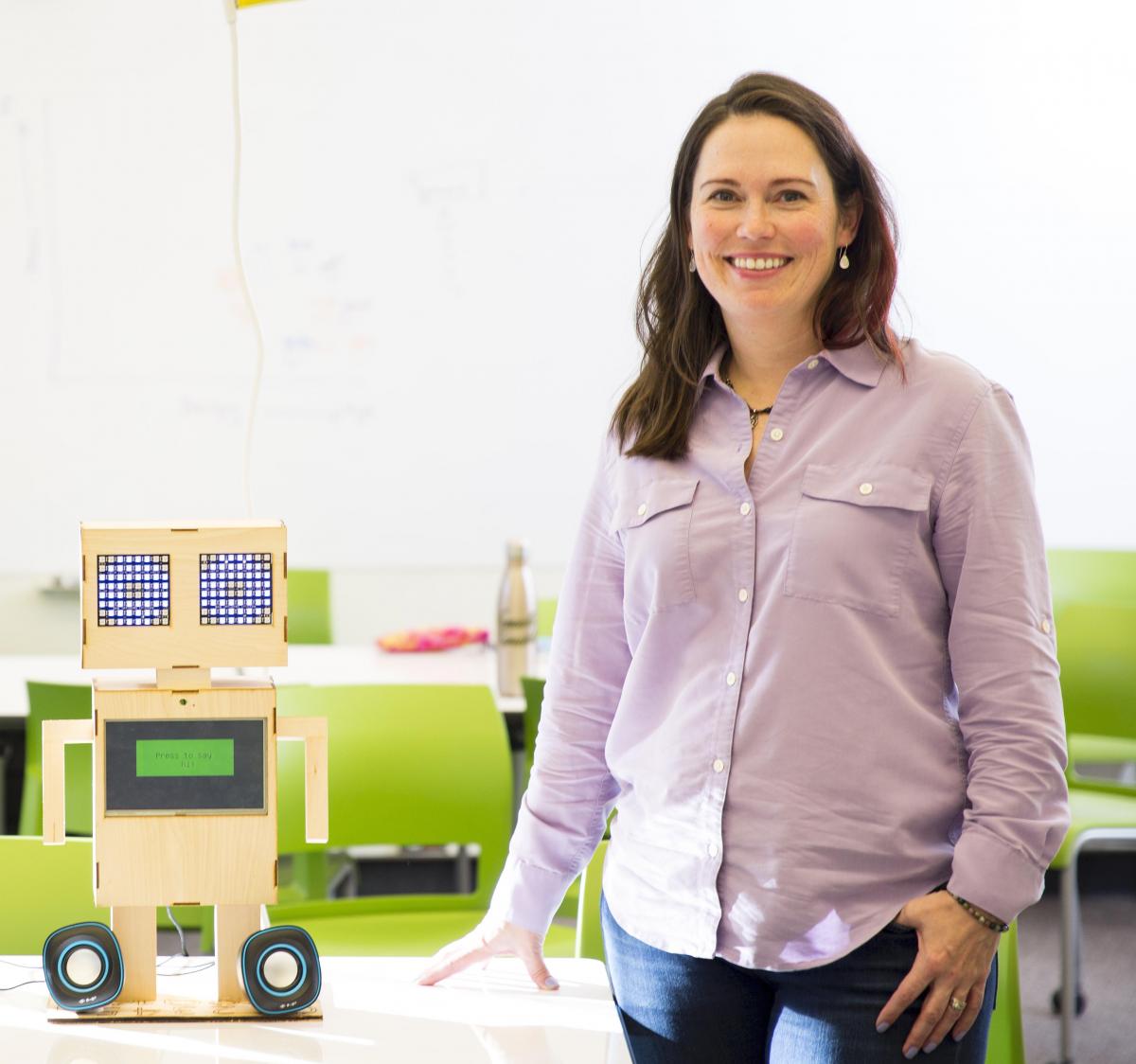 Dr. Elin Björling, senior research scientist in HCDE, with EMAR
A new article in PCMag, "This Robot Wants to Help Stressed-Out Teens" features a Q&A with Dr. Elin Björling, senior research scientist in Human Centered Design & Engineering, about her work on Project EMAR (Ecological Momentary Assessment Robot).
Dr. Björling and her collaborators are examining how teen-robot interactions can help understand and combat stress in adolescents. Through Project EMAR, now in its fourth year, the researchers have discovered that teenagers feel comfortable sharing feelings with social robots, although they are concerned with how collected data may used. "Teens said they like that EMAR cannot judge them or feel burdened by their problems. Many teens have expressed to us that the fear of burdening others or causing worry is what keeps them from sharing with their peers of family members," Björling said in the article. "Making sure teens have agency over their data; giving them choice in their interactions related to privacy, or choosing to share them with peers, parents, or professionals, is an important principle."
I have worked with teens for two decades now, and I am continually surprised by their creativity and ideas. They are the perfect collaborators for the co-design of new technologies with their heightened levels of sensitivity and empathy. Much of the media today portrays teens as screen-addicted zombies incapable of empathy or sensitivity to others, but we now have four years of raw data suggesting that quite the opposite is true. My takeaway in working with these teens is that they are in fact incredibly sensitive and empathetic beings who need an alternative outlet for their stress that frees them from worrying about others.
— Elin Björling
Read the full article in PCMag
Project EMAR is being developed by a cross-campus team of researchers at the University of Washington, based at UW Tacoma and UW Seattle. Co-Principal Investigator is HCDE alumna Dr. Emma Rose (PhD '11), an associate professor in the School of Interdisciplinary Arts and Sciences at UW Tacoma, and Maya Cakmak, assistant professor in the Paul G. Allen School of Computer Science and Engineering.