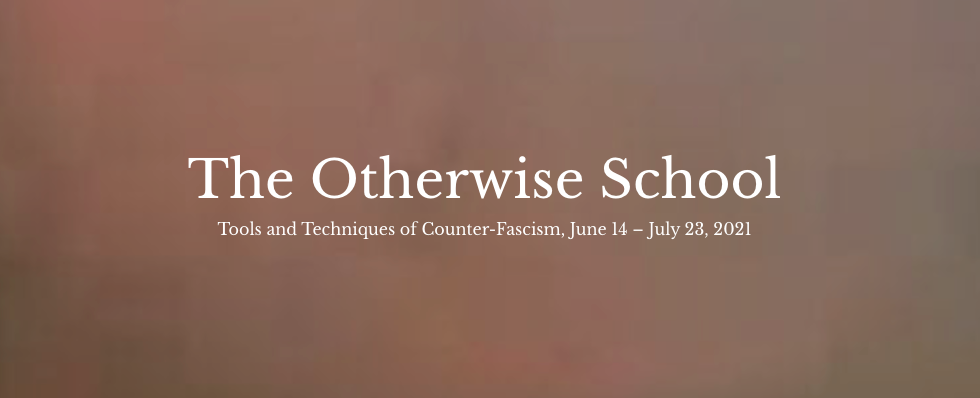 The Department of Human Centered Design & Engineering announces The Otherwise School, a new summer program aimed at developing tools and techniques of counter-fascism. 
The Otherwise School is led by HCDE Assistant Professor Sucheta Ghoshal's research collective, Inquilab, and We Be Imagining, an initiative led by J. Khadijah Abdurahaman. The Summer 2021 program will be held from June 14 – July 23, 2021.
Within a project-based curriculum, participants in The Otherwise School will explore questions such as: what would it take for us to build technologies of resistance in the face of an ongoing global crisis of fascism, capitalism, anti-blackness? How can we best locate technology in these intersecting forces of harm? What comes after this analysis?
The Otherwise School is accepting 20 students for the Summer 2021 program. Artists, activists, technology workers, graduate students, and scholars – from all over the world – are encouraged to apply. Tuition is free, and 12 of the 20 participants will receive a stipend of $2,000 for their time. The eight un-funded seats are geared toward practitioners, academics, and/or others who do not request the stipend. The stipend is funded by the Department of Human Centered Design & Engineering.
Goals of The Otherwise School include: 
Publishing an article in a special edition on design and democracy for the ACM Interactions magazine.  
Developing a framework connecting global forces of oppression that is converging into a rise of fascism, and the technologies that are enabling this trend worldwide.
Prototyping tools, techniques, and strategies for counter-fascist work that can be supported via the power of diaspora.
Deepening a daily technology practice. For example, the limitations and possibilities of Whats App, Signal or Facebook Messenger as it relates to safety and accessibility. Or thinking about who will be the custodian of the archives for public webinars. 
While The Otherwise School is welcoming applications globally, features and worldview are primarily shaped by members of the diaspora. Recognizing that there is a strategic opportunity within a space that brings together those organizing "back home" and "here",  The Otherwise School is committed to place these diasporic tensions at the center of the process of developing tools and techniques for counter-fascism.
Learn more about the program on The Otherwise School website. Applications are due by May 14, 2021.