From May 7–12, I attended a workshop and gave a presentation at the CHI 2011 conference in Vancouver, Canada. Although I have been to several international conferences before, including a few that rival the size of CHI, I had not previously attended a CHI conference. I know that CHI is the premiere venue for human-computer interaction (HCI) researchers and practitioners, and I was excited to take the train into Canada and avoid the obscene hotel parking costs. That money is better spent on the exceptional food and hot chocolate on offer in Vancouver!
On the first day of CHI, I attended the Child Computer Interaction workshop, where I presented my accepted paper titled, "The Myth of the Paperless School." The workshop was a great chance to dig into a topic in more detail since we had nearly 9 hours together (plus a dinner after the workshop). I presented my own work on why paper is not a dead reading technology in academia and was lucky enough to be partnered with two other researchers who presented on similar topics. I strongly recommend workshop participation at CHI to all other students because the workshop is far more intimate and helps you develop personal contacts more quickly and effectively than simply showing up at presentations.
My paper presentation was set for the last day of CHI. This was handy because I was able to attend the entire conference prior to the final day without having to worry about missing a particular session to present my work. I found that I typically wanted to see more than one session at a time: For example, although I went to the "Sex and Bodies" session on the first day, I also wanted to see the "Research Methods" session held at the same time. Although I know it's okay to get up and leave one session for another, I definitely observed people doing this in a fairly rude manner, which made me less inclined to hop from session to session. I also noticed that certain sessions filled up and the student volunteers stopped letting people in, and I didn't want to find myself in that situation. These were some of the subtle things I learned about how to attend CHI.
My presentation went well and I was excited to see a few of the people whom we cited in the paper actually there in the room. I really felt that this opportunity to present made the community of researchers more tangible than the names I often see in databases and on lists of references. It's nice to know that these more senior researchers are generally quite approachable and willing to talk about the work that you are doing as a student. This is a big reason why I plan to attend CHI in the years to come: It is not every day that you can rub elbows with the historic and current leaders of the field.
CHI is clearly a popular choice for researchers and practitioners alike who want to be HCI knowledge leaders. I believe the events that occur between and after sessions may be as valuable as the sessions themselves. It was at the various receptions held after hours when I really got to meet the people who I had hoped to see. For example, the DUB reception was a fantastic networking opportunity: I saw several of my friends from MSR there and I made a few new friends as well. I made a lot of new LinkedIn and Facebook connections, and I was also inspired to start using Twitter again from time to time as a way to stay in touch with a few specific students at other schools. I am quite grateful to Professor Charlotte Lee for enabling me to attend CHI 2011, and I am excited that our paper received a Best Paper Nomination as well. For a first-time attendee, that was quite an amazing honor for our research group. I look forward to next year in Austin, Texas!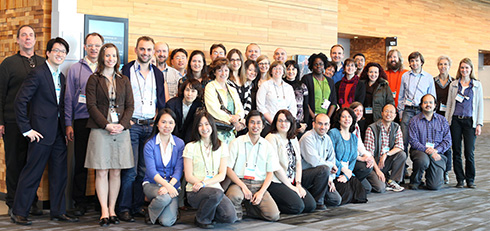 Alex Thayer (back row, fourth from right) attended the Child Computer Interaction workshop, where he presented his paper, "The Myth of the Paperless School." Photo courtesy of Alex Thayer.