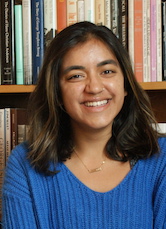 Aleenah Ansari, HCDE 2019 graduate
Aleenah Ansari (BS 2019), received a Library Research Award from the University of Washington Libraries for her project Gentrification, Displacement, and the Question of Responsibility.
Ansari graduated with dual degrees in Human Centered Design & Engineering (HCDE) and in Comparative History of Ideas (CHID). The project was completed as part of her CHID thesis, and she is mentored mentored by HCDE Assistant Professor Daniela Rosner.
This award recognizes the excellence and creativity of undergraduate students at UW.  It is awarded students who demonstrate outstanding ability to identiy, locate, select, evaluate, and synthesize library and other information resources to use them in the creation of an original course project. Recipients receive up to $1,000 in cash to support their project.
Gentrification, Displacement, and the Question of Responsibility
Project summary by Aleenah Ansari
In 1865, Seattle's First City Council banned Native Americans from living in the city – but restricting people's right to a home hasn't stopped there. Redlining, or policies that make it harder for people of color to obtain a mortgage or buy a property in certain neighborhoods, have existed in Seattle since the 20th century. Moreover, the continued growth and expansion of Seattle and the tech industry have contributed to rising rent prices, construction, and the highest number of cranes in any city for the thirst year in a row.

Out of displacement, the Black community in the Central District (CD) has persisted in its advocacy for equitable development and affordable housing, even in the face of this displacement. For this reason, my research draws on interviews with CD community members, residents, artists to challenge one-dimensional narratives of displacement. By centering the agency and stories of my interviewees, I hope to highlight the CD's resilience, cultural richness, advocacy, and collaboration. I also interview members of corporations and tech companies and ask, "how can large corporations grow responsibly?"

Read more about takeaways from interviews, events, and reflections on my research process at www.gentrifiedseattle.wordpress.com. If you're a CD community member or are fighting the good fight to support the equitable development of Seattle, drop me a line at aansari@uw.edu.
Learn more about the Library Research Award and the 2019 recipients here.