The use of Electronic Medical Records (EMRs) to record patient data during medical exams has become commonplace in modern medical practice. EMRs maintain health data in a digital format to improve accessibility and accuracy over previously used paper-based records. However, the act of inputting data during a patient visit can be complicated for physicians and it may detract from the patient-physician connection. Medical Scribes (medical information managers who record physician-patient interactions during medical exams) are a current workaround to this solution, but are only used by 30% of the medical community.
SonoSite, a Human Centered Design & Engineering (HCDE) Corporate Affiliates Program (CAP) member, specializes in improving patient care. SonoSite proposed a research project to HCDE students looking to tackle a challenge for the two-quarter HCDE Capstone course: Study the current use of EMRs by physicians and scribes, and suggest alternate design solutions. HCDE undergraduate students Morgan Duffy, Heather Eberhart, and Serena Miller accepted the challenge and partnered with SonoSite for their Capstone Project. 
The team describes their EMR user experience research:
We conducted eight semi-structured interviews, recruiting seven medical scribes and physicians, along with one Director of Health Information at the University of Washington Medical Center, in order to better understand the business side of EMRs. We asked our participants about their daily activities, to describe how they use technology, to share their successes and frustrations with those technologies, and if they are using medical scribes and how. We used the analysis tool Dedoose to code the interviews by key words to identify common trends. Then, we worked with the team at SonoSite to developed two surveys—one for doctors and one for scribes—to use in validating our interview findings. The surveys were posted to online forums for members of the medical community, where we received 12 physician responses and 3 scribe responses from across the country and whose ages ranged from 29-57 years old. 
Our high priority findings are as follows:
Current EMR systems restrict the physician from focusing on their patients. 
The method for physician's inputting data into EMR systems is inefficient.
Template formats in EMR systems keep physicians from documenting a narrative about their patient.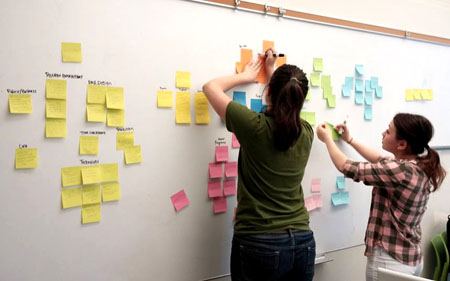 The students used their findings to brainstorm potential design solutions to the current EMR process. One idea is for physicians to use a wearable recording device, like a Google Glass, to enable the doctor to maintain eye contact with the patient while their exam history is being charted. Another solution is for the physician to use an ink-to-text tablet, allowing them to write freely but maintain the information in a digital format.
In June 2014, Duffy, Eberhart, and Miller presented their findings to SonoSite and the greater community at the 2014 HCDE Capstone & Research Showcase. The team was thankful for SonoSite's support, including their help preparing them for their final presentation, saying "Our sponsors were extremely helpful with coming up with different layout ideas, how to visualize our results, and how to pull people in to talk about our project."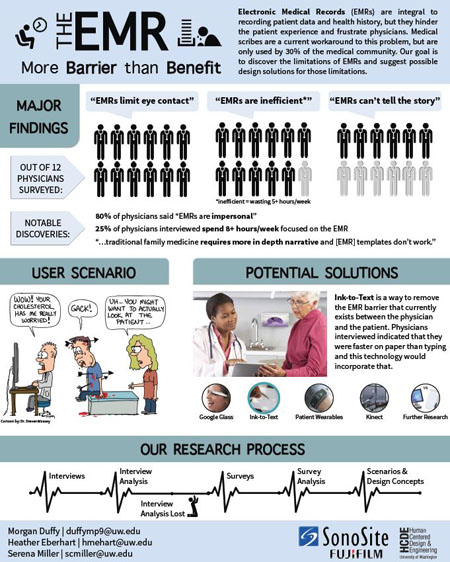 Click the image to view a larger image of the team's Capstone Project, "The EMR: More Barrier than Benefit."
Is your company or organization interested in sponsoring a Capstone Project?
HCDE Corporate Affiliates Program members at the Strategic Partner level are encouraged to propose Capstone Project ideas for the 2014-2015 academic year. Capstone Projects are large-scale research, design, and engineering projects that encompass two quarters of student work. 
Learn more about Capstone Projects or contact us at hcdecap@uw.edu.