Students in the Human Centered Design & Engineering (HCDE) Master's Capstone course presented their final projects at the HCDE Master's Capstone Showcase on March 17, 2015.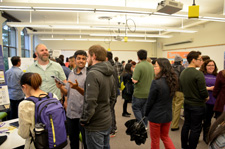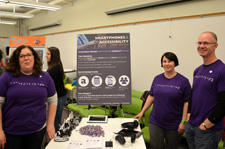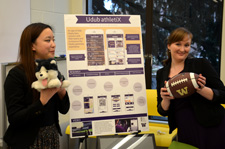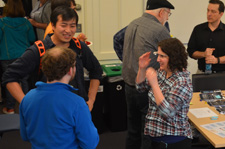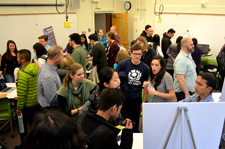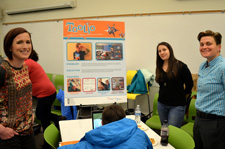 HCDE students spend two academic quarters on Capstone—defining a problem, forming a team, and designing a solution that integrates their knowledge and skills gained throughout the degree program. 
Join the HCDE community for the HCDE Open House on June 1, 2015, to see all undergraduate and graduate Capstone projects in an open poster session.
All 2015 Master's Capstone projects
BANDTER
Web Application for Annotating and Organizing your Jam Sessions

Joshua Coppola, Joseph DeMaria, Hidekazu Saegusa

CHARIOSITY
Make every day better

Hasani Burns, Kristi Nguyen, Matt Soave, Jack Tao

HUSKY NATION
Creating a digital relationship between UW athletics and their passionate fanbases through a mobile app

Pratham Parikh, Dan Shillcutt, Matt Yukubousky

MORNING OWL
Sleep Smarter. Do Better.

Ann Huang, Diana Chin, Elaine Zhao

AUTISM RESEARCH WITH A HEART
Reimagining an Autism Research Website

Diane Conrad, Muna Haddadin

NEVER FORGET YOUR PASSWORD AGAIN

Nicholas Colvin, Reem Sabry

OUR SUPERMAN
A situational application approach to organizing and sharing digital heirlooms to reconnect family members after a tragic loss of a loved one.

Jennifer June

 

E$PECT
Help expectant parents estimate childbirth delivery cost

An Ping, Qiuyan Zhang

UDUB ATHLETIX
An app to help Husky fans connect with their teams and to improve the Husky gameday experience

 

Katelyn Barrows, Allie Choy, Laurel Stone

TOOLIO
Stimulating children's creativity and introducing them to 3D printing

Kelly Campbell, Margaret Quin Lyons, Chris Peloquin

HEALIUM
Enabling emergency physicians to access electronic medical records where and when they want to

Tony Corneto, Lisa Lowery, Bipin Mathew, Gabrielle Mehlman, Ian Wyosnick

40 WINKS
Sleep is a critical component of healthy living

 

Libby Hanaford, Mike Lipp

HTC SMARTPHONES & ACCESSIBILITY
Accessible Design Leads to Better Usability for All

Brett Burnside, Kellie Rogers, Lisa Schaefbauer

JOURNEY BY EXPEDIA
An offline app for exploring on the go

Sarah Kepa, Andri Pangestu, Lasifu Ta, Qian Zhang

VOX
Reading with Annotations 

Gina Donlin, Thomas Dunlap, Tridiv Sardesai

 

 

YANJIU INTERNACIONAL
An evaluation method focused on cultural relevance

Ignacio Contreras, Michael Gelon, Shufan Wen