The department of Human Centered Design & Engineering (HCDE) held its 2015 Commencement ceremony on Tuesday, June 9, in the University of Washington Husky Union Building (HUB) Ballroom.
Kelly Franznick, co-founder and CXO of Blink UX, delivered the 2015 HCDE Commencement Address. Franznick is a dedicated friend of HCDE, serving as a member of HCDE's Corporate Affiliates Program, and on the department's External Advisory Board and Professional Graduate Programs Advisory Board.
Read the full text of his speech "The Future Will Not Be What You Expect" »
The Class of 2015 was HCDE's largest graduating class to-date, with 50 students graduating with a Bachelor of Science, 63 students graduating with a Master of Science, and 3 students graduating with a Doctor of Philosophy. The full list of graduates is below.
HCDE annually recognizes outstanding students with Awards of Excellence. These awards honor students who have distinguished themselves by demonstrating excellence in one of three categories: Innovation, Leadership and Engagement, and Academic Excellence.
See the 2015 Awards of Excellence winners »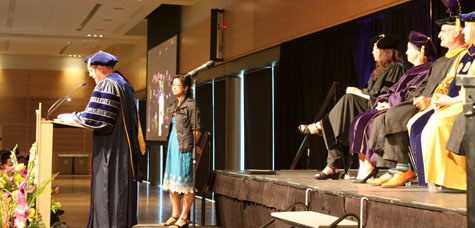 The 2015 Myron L. White Award (aka the "Mikey") was given to Dr. Carolyn Wei. Wei is a user experience researcher at Facebook in Seattle. She received the first PhD in Technical Communication awarded from Human Centered Design & Engineering, and she also holds a Master's degree from the department. Wei is a long time advocate for women and minorities entering STEM fields, and is a member of HCDE's Diversity Board and HCDE's Professional Graduate Programs Advisory Board.
Beginning in 2004, HCDE has annually awarded the Myron L. White Award to a dedicated friend of the department. Carolyn Wei joins the ranks of other distinguished recipients of the award.

 Photos from the event are available on HCDE's Flickr Page »
Please join HCDE in congratulating the Class of 2015!
Students who attended the 2015 Commencement provided the department with a short statement to be read as they crossed the stage. Those statements are included in italics.
BACHELOR OF SCIENCE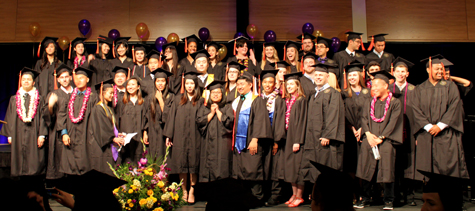 John Allen
While in HCDE, John refined his front-end development skills. He will be joining Slalom Consulting as a Salesforce Engineer later this month.
Ricky James Iloreta Basconcillo
Armed with knowledge and an eye for design, Ricky plans on developing innovative and groundbreaking technology as a UX designer. 
Elika Simone Berlin
Elika now has a double degree in ECON and HCDE. This summer, she will work on music and then intern at IBM. Then, she will move to Michigan.
Launa Blaine
As an HCDE student, Launa's goal was to make technology elegant. She will now be joining Cozi as an interaction designer. 
Jared Boisseranc
While in HCDE, Jared did design research with Assistant Professor Gary Hsieh. Jared will be working as an SDET for FSX in Bellevue this summer.
Julia Chamberlain
A dual-degree student in both HCDE and sculpture, Julia will continue her UX career after teaching 3D printing and art this summer.
Soomin Chang
Antonio Diaz
Musician, car enthusiast, and now a UX designer, Antonio is the first in his family to graduate from a university with a bachelor's degree.
Long Dinh
As the first in his family to earn a degree, Long aspires to be a beacon of hope for the underrepresented, while pursuing a career in UX design.
Terrence Duenas
When working with teams, Terrence enjoyed the ideation and implementation phases. Thus, he is pursuing a career in UX, UI, or web design.
Morgan Duffy
As a student in HCDE, Morgan worked for Microsoft and Workday as a project manager and researcher. She will be back in the fall for the HCDE Master's program.
Luis Cecilio Flores
A passion for all tech and cat related, Luis is the first in his family to graduate college and will be joining F5 Networks as a UX designer.
Soffonias Gebrehiwot
Soffonias, President of UW's National Society of Black Engineers (NSBE), helped make diversity a reality here at UW. He is joining the #1 technical consulting firm in the world, Accenture.
Lisa Hu
Lisa is great at bringing people together and push ideas forward. She will be joining Microsoft as a Program Manager full time this August!
Coimbra Jackson
Now an expert in innovative thinking, Coimbra is excited to continue her education at Chicago's John Marshall Law School to study IP Law. 
Melissa Jones
Melissa was the HCDE Student Association President. She is a passionate advocator of UX. After a summer in Europe, she will rejoin the Vertafore Team as a UX Designer.
Ashkaan Khatakhotan
Jennifer Kumura
Jennifer wants to take this time to thank her HCDE community. Her passion in UX would be non-existent without all of your support and guidance.
Wanlin Li
Wanlin enjoyed her experience at HCDE, and appreciated the opportunity to infuse her passion for technology and design into her studies.
Andrew Lo
Andrew will be working as a teacher at TechSmartKids, teaching computer science and physical computing.
Stephen James Maddock
Erin McLean
While in HCDE, Erin was known for innovative projects and a passion for space technology. She plans to pursue a career in interaction design.
Anu Mohajerjasbi
Anu did research under the direction of Professor Tom Furness. Anu aims to use the skills she has gained in HCDE to design for social justice.
Jonas Albert Capili Nocom
While in HCDE, Jonas was able to pursue and learn more about his passion in HCI. He had an amazing time and will miss his fellow HCDE peers.
Ron Piell
Jinyuan Qiu
Feihuan Qu
Geraldine Ragmac Ragsac
Passionate about education and outreach, Geraldine joined Andy Davidson's UCD Charrette for K-12 outreach Directed Research Group and is headed to Teach For America.
Will Richey
Will enjoyed exploring design through his classes and internships, and has joined Microsoft's user research department for video games.
Bonny Rivers
Bonny is the Program Lead for Women in Science & Engineering (WiSE) and will continue mentoring young women of color as she begins her UX career in Silicon Valley.
Leilani Esther Roylo
Leilani enjoyed her two years in HCDE and will miss Sieg hall dearly. She is excited to enjoy the Seattle summer. 
Kevin Saka
Kevin is an expert drawer of peculiarly emotional stick figures. He'll be enjoying the unemployed life as long as his parents will let him.
Dani Sandoval
With a focus on scientific communication, Dani's work has ranged from studying crisis-related rumoring to academic access via textbooks.
Kelley Shanahan
Kelley worked in Professor Kate Starbird's Research Groups on social media misinformation and Google Glass. This summer she will join Accenture Digital in San Francisco!
Sreedev Sidharthan
Mark E. Stamnes
Mark spent seven quarters in different research groups working with Professors Jan Spyridakis and Daniela Rosner. He will be applying to grad school next.
Michellene Steinberg
Erin Sy
Erin's one-and-a-half year experience working on research with Professor Charlotte Lee and PhD student Drew Paine inspired her current work as a Research Assistant.
Nathaniel Tabit
Focusing on games in John Porter's Directed Research Group, Nathaniel hopes to use what he's learned in HCDE to make people smile the way he's smiling right now.
Megan Taylor
Megan will be adding to her list of complicated degree titles by pursing a Master's in Human-Computer Interaction + Design. 
Yuriana Garcia Tellez
Yuriana has a passion for medical sciences and user-centered design research. After graduation Yuriana will travel and apply to grad school.
Nicole Tidwell
While in HCDE, Nicole has worked in Directed Research Groups with Professors Julie Kientz and Kate Starbird. She will be joining the Global Technology team at Starbucks.  
Vicky Tran
Vicky will be joining Cisco Systems as a full-time User Experience Designer this July. 
Brian Vergara
Through projects both inside the classroom and out, Brian has grown to love UX Design. He hopes to continue similar work after graduation.
Chong Wang
Chong will start his career as a software developer this summer.
Jennifer Wong
Jennifer will be the TA for a high school user-centered design class this summer and is in the process of interviewing for UX design positions.
Jessica Wong
During her time in HCDE, Jessica was a CSE TA and a research assistant. She will be joining Microsoft down in Silicon Valley.
Ethan Zhang
With his passion for design, Ethan worked on various class and department research projects, and will continue his learning in UX design.
Sam Zhao
After studying in HCDE and computer science, Sam will be working at Hulu in Los Angeles.
Gary Jiayang Zhou
Gary, a full-stack UX designer specializing in fintech, is heading to the east coast for his next adventure. Follow him on Facebook and Linkedin.
MASTER OF SCIENCE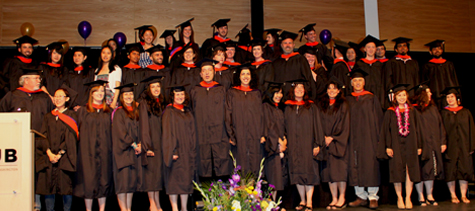 Phannipha Arunyaangkul
Katelyn Barrows
Katelyn focused on User Experience Research while studying in HCDE and recently started working as a UX Researcher and Designer at Virtuoso.
Victoria L. Briscoe
Victoria captured the Trifecta: 1-Certificate Global Technology Communication Management, 2-Master Science in HCDE, and 3-Concentration in User Centered Design.
Hasani Chioke-Michael Burns
A software developer and user experience designer, Hasani has the perspective and skills to truly drive innovation, and is headed to Appian.
Brett Burnside
While in HCDE, Brett made new, life-long friends and developed the skills that have allowed him to join Amazon as a User Researcher.
Kelly K. Campbell
With a background in visual design and HCDE, Kelly would like to move into a new career where she can put her user experience knowledge to work.
Diana V. Chin
Allie Choy
Allie worked on a Husky football app for her capstone project, and is interested in designing health technology, especially for children.
Nicholas C. Colvin
Diane I. Conrad
Diane's passion for designing digital experiences brought her to this moment but she didn't do it alone. To her family and friends - Thank You!
Ignacio Contreras
Ignacio is currently a UX researcher at T-Mobile and hopes to incorporate culturally competent practices in user-centered design with the Latino community.
Joshua Coppola
In HCDE, Josh was primarily interested in interface design, testing, and development. He will be begin working as a UX designer this summer.
Tony Corneto
An industry vet with 15 years of experience, Tony has seen the impact HCDE has had on his career and company as Director of UX at Virtuoso.
Koen De Couck
Koen was here as Fulbright student from Belgium. He now does UX consultancy at the Clean Energy Institute, creating the next generation of solar.
Joseph DeMaria
While in NY Joe never could have imagined what doors HCDE could open. The program provided a prosperous future and let him travel the world.
Gina Donlin
While at HCDE, Gina enjoyed learning the user-centered design process and working with the Graduate Student Association (GSA). She will be joining Pearson Packaging Systems as a researcher. 
Thomas P. Dunlap
Lissette Kelly Elston    
Emily Jean Greenberg
Muna Haddadin
After three years of hard work and a rewarding journey in HCDE Muna is graduating just in time to take care of her newborn.
Elizabeth A Hanaford
While in HCDE, Libby has had career changing internships at Amazon, HTC, and Blink Interactive. She now works as a UX Architect at AT&T.
Gregory James Hansen
Ann Huang
Ann would like to say, "So long and thanks for all the critiques."
Bradley Jacobson
Brad could not have had more fun working with HCDE faculty and students and will continue pursuing his passions as a UX strategist for R/GA.
Aubury L. Jellenek
As a student in HCDE, Aubury spent several quarters working in a Directed Research Group. She plans to continue this collaboration following graduation.
Jennifer Dayle June
Sarah Kepa
Sarah credits HCDE for discovering her passion for creatively solving people problems. She looks forward to growing her skills at Expedia.
Yea Seul Kim
Chia-Chen Kuo
Yi-Chun Lin
Studying HCDE helped Aiko become a front-end engineer with empathy for the users. She is now working with the Adobe Creative Cloud User Interface team.
Michael W. Lipp
Mike is working at Amazon as a Senior Quality Assurance Engineer applying his HCDE skills to pioneer experience testing of digital products.
Lisa Lowery
Lisa thanks Professor Vish Viswanath for his mentorship and is currently a UX consultant for the Dana-Farber/Harvard Cancer Center.
Margaret Quin Lyons
Adding HCDE to her passions for psychology and customer success, Margaret looks forward to a diverse career in user research.
Bipin G. Mathew
Bipin joined the HCDE department with an engineering background and is now geared to become a Design Technology Consultant.
Gabrielle Mehlman
While in HCDE, Gabby has been passionate about developing the HCDE community. This summer she'll be bike-touring, onto UX design in the fall.
Kristi Truong Nguyen
Interested in interface design and fascinated with aircraft, Kristi will be continuing her work on Flight Test Systems at Boeing.
Susan Oldham
UX designer Susan served on the GPSS Graduate Student Experience Committee and HCDE Graduate Student Association to improve the user experience for UW grad students.
Andri Pangestu
Pratham Parikh
HCDE made Pratham shift from writing code to reading people. He now helps make better hardware at Xbox.  
Chris Peloquin
An Ping
While in HCDE, An discovered her passion for information vizualiation, met lots of interesting people, and had great fun in Professor Sean Munson's Directed Research Group.
Zening Qu
Whitney Nichole Roan
Kellie Rogers
After Kellie's first class in the Master's program, she was able to transition to a UX role at Amazon and will continue her work there.
Reem Sabry
In addition to being a full time UX designer at Moxi Works, Reem is also conducting research in usability and password behaviors.
Hidekazu Saegusa
While in HCDE, Kaz worked with Professor Daniela Rosner in the TAT Lab. This summer, he'll move far away to downtown Seattle where he'll join Frog Design.
Tridiv Sardesai
After 2 years of criticizing Amazon for its design, Tridiv is now their UX designer.
Lisa Schaefbauer
Lisa tackled projects focused on mobile design, wearables, and accessibility. She is currently working in UI/UX Design at Brown Paper Tickets.
Daniel Shillcutt
Dan's a UX consultant working at AT&T and looks forward to the next phase of his life as an HCDE graduate.
Jeffrey A. Smith
Jeff focused on interaction design, visual design and coding while in the HCDE program. He works as a design lead at Microsoft.
Matthew D. Soave
Laurel Stone
Laurel plans to integrate her passion of raising livestock with HCDE to aid people who work with animals for genetic selection and herd improvement.
Lasifu Ta
Renjun Tao
Rachel Rose Ulgado
Barbara L. Vrana
Shufan Wen
Shufan enjoyed her studies at HCDE, and wants to be a UX researcher to bring people smiles in the future.
Kalen Wong
Kalen will continue to apply her knowledge in HCDE to improve the design of enterprise mobile applications.
Ian Wyosnick
Guided by the illustrious UX unicorn, Ian dove into analysis, TA-ed in Ghana, and works as a User Researcher with the team at Anthro-Tech.
Matthew Richard Yukubousky
Qian Zhang
Qiuyan Zhang
Elaine Zhao
While in HCDE, Elaine worked in Professor Masashi Kato's DRG for eye tracking the study of second language learning.
DOCTOR OF PHILOSOPHY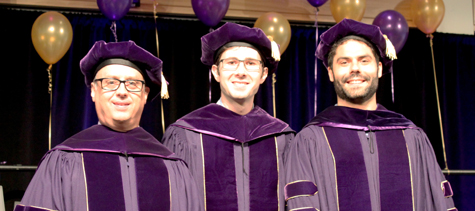 Left to right: Dr. Robert Watson, Dr. Michael Brooks, and Dr. Daniel Perry
Michael J. Brooks
Thesis: Computational Tools for Qualitative Research with Online Social Text Data
Daniel Perry
Thesis: A Complex Systems Model of Learning for Science and Data Science Digital Games
Robert Bennett Watson
Thesis: The Effect of an API Reference Topic's Visual Design and Information Content on the Speed and Accuracy of Topic-Relevance Assessment
Read more about HCDE's 2015 PhD graduates »
Congratulations to the class of 2015!