Congratulations to the 2011 re:Design team for receiving a Society for Technical Communication (STC) Puget Sound competition award! The STC Puget Sound recognized re:Design 2011 at the Merit level within the category of technical publications. Present to receive the award at the STC competition showcase in Redmond on January 31, 2012, were Spring 2011 Project Manager Rachel Barnecut (BS '12), Design Lead Karen Holum (MS '12), Designer Ty Le (BS '11), and Writers and Editors Anna Anderson (TWE '11) and Jaret Basden (BS '11). The showcase is a venue for all award recipients to display their online or print publications and to recognize excellent examples of technical communication. Barnecut commented on the award, saying, "The 2011 re:Design team put a lot of time and hard work into the newsletter, and the STC merit award is a nice way to acknowledge and celebrate its success."
re:Design, the student-run newsletter for the Department of Human Centered Design & Engineering (HCDE), was published annually in the summer through 2011. The publication reported department news, awards, research, profiles, and HCDE alumni updates. HCDE students and affiliates contributed all design work and content to the publication over a two-quarter period each year on a volunteer or for-credit basis. Department Chair Jan Spyridakis and Communications Manager Anne Hilton advised the 2011 re:Design team. The 2011 issue was re:Design's final publication.
The STC competition recognizes three levels of awards for technical publications: Merit, Excellence, and Distinguished. re:Design, formerly known as posTComm, has received STC competition awards annually since 2007.
Visit the re:Design page to view the 2011 issue, as well as archived issues. If you would like to receive a hard copy of the newsletter, please send your mailing address to hcdehelp@uw.edu.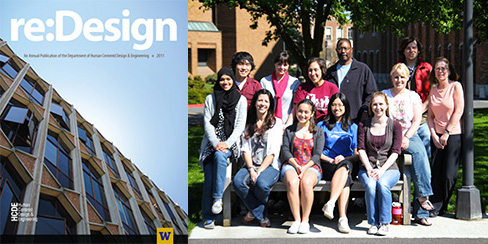 On left: Cover of the 2011 issue of re:Design
On right: the 2011 re:Design team. Back row, L to R: Ty Le, Sara DeGruttola, Melinda Salazar, Eldridge Harding, Jaret Basden. Front row, L to R: Khadija Qader, Kailee Pat Wheeler, Rachel Barnecut, Jacqueline Keh, Allison Kilgore, Anna Anderson, Karen Holum. Not pictured: Alena Benson, Sarah Bitter, Kelsey Hentges.