Upon Admission
I'm Admitted! Now What?
Finalizing Acceptance
Admitted students who decide to join the Human Centered Design & Engineering Master's program should log-in to the MyGrad application through the University of Washington's Graduate School to find important information about your next steps.
Submit transcripts
Official transcripts are required by the UW Graduate School. If you have attended multiple institutions you will find one institution listed on the Application Status page; that is the only official transcript which must be provided. Please use the addresses (standard post or express) provided on the Application Status page in MyGrad. The UW Graduate School is unable to accept electonic transcripts. When the transcript has been received and verified, your MyGrad record will be updated.
Please consider the following:
If you are currently in progress with your degree, wait to submit your transcript until your degree completion statement has been posted on your transcript.
If your degree is from the University of Washington there is no need to send a transcript, as it can be verified internally.
Please note it will take several weeks for your transcript status to be updated after the transcript is received. If there are any issues, the Graduate School will contact you directly.
Questions? Contact the UW Graduate School, uwgrad@uw.edu.
Orientation
Incoming HCDE Master's students will be invited to online orientations in the spring and summer months in preparation for the scheduled onsite, in-person orientation in September. The department will email information about orientation and other events to incoming students. We are not able to arrange visits with individual faculty or lab tours.
Deposit
Students are required to pay a $250 non-refundable deposit to reserve their place in the cohort. The deposit will be applied towards the Autumn Quarter tuition. Instructions for paying the deposit will be provided by the Graduate School after you accept the offer of admission.
Registering for Classes
Admitted students will receive a Welcome and Registration packet via email in late June. It will include instructions on how to register, along with suggestions on courses to take during your first quarter. Registration will open in late June. Please do not attempt to register early, as the system will not allow it. All HCDE graduate courses are only open to those in our program, so there is no need to worry about not being able to get in a class.
Housing Options
Numerous housing options exist for graduate students at the University of Washington, and it is recommended that you begin your housing search early since openings fill rapidly.
On-Campus Housing
The University of Washington's on-campus housing includes residence halls, single-student apartments, and married student/family housing. Learn more at 
hfs.washington.edu/housing
.
Off-Campus Housing
There are a number of neighborhoods close to campus that are worth considering. A few of these include Ravenna, Wallingford, Montlake, Fremont, Capitol Hill, Green Lake, and Sand Point. All of these neighborhoods are within a 15-20 minute bus ride of the University. In addition, there is plenty of housing in the University District and you may well find this is the most convenient option for you.
The Off-Campus Housing Affairs office manages an extensive listing of shared and unshared housing options. Listings are posted via their online database, as well as in their office. You can also post a listing indicating that you are looking for a place to live. People who have a room to rent check these listings for potential renters. Other popular websites to check for rooms or homes to rent include the following:
Watch an Info Session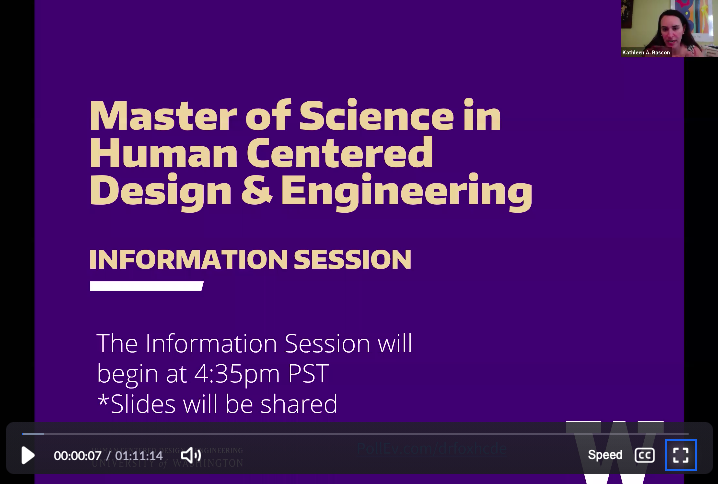 Have questions about the Master of Science in Human Centered Design & Engineering? Watch an Information Session about the program, hosted by HCDE advisors Kathleen Rascon, Alex Llapitan, and program director Tyler Fox. View upcoming information sessions on our calendar.
Recorded September 2020