Collaboration Opportunities
There are many ways HCDE Corporate Affiliates Program (CAP) members and community partners work with students and faculty in HCDE.
Career and Recruitment Events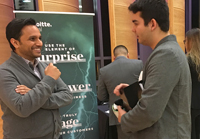 Partner with HCDE to recruit top talent for your job and internship opportunities. Post your jobs and internships to the HCDE Job Board, host a table at the HCDE Career Fair, hold an Information Session on the UW campus, participate in career panels, and review portfolios of graduating students at HCDE's portfolio review events. Full CAP events calendar »
The department accepts proposals for Capstone project sponsorship at the undergraduate and graduate levels. Capstone projects are student-run, large-scale projects that encompass two quarters of student work. Sponsor involvement can be as little as providing project ideas or as much as full-on mentoring. Corporate Affiliates at the Strategic Partner membership level receive one free Capstone project per year. More »
Smaller in scale than capstone projects, these industry partnership class projects can last anywhere from 3-9 weeks, and usually cover one component of human-centered design (i.e. user research). In HCDE's Usability Studies course, students perform user testing and provide recommendations to industry clients. More »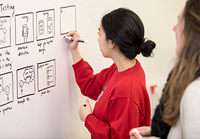 Design Jams are very short events where industry sponsors present a focused design problem or topic for student teams to tackle in a condensed timeframe (one evening to one weekend). Student teams brainstorm and work together to create a deliverable and share back ideas. More »
Research sponsors run a Directed Research Group in conjunction with a member of HCDE's faculty. Directed Research Groups are offered every academic quarter and students across HCDE's undergraduate, graduate, and doctoral programs receive credit for the course. Sponsored research require a high level of involvement and therefore provide the greatest amount of interaction with students and faculty. More »
First Friday Industry Tours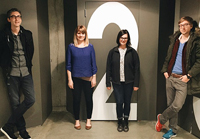 HCDE's First Friday Industry Tours is a networking series for partners to host 20-40 HCDE students at their spaces or nearby venues. Partners can structure events in many fun ways—company tours, happy hours, panels, workshops, meet and greets, and events to promote upcoming opportunities. If you are interested in hosting a First Friday Industry Event, contact us at hcdecap@uw.edu. Find available dates on the CAP events calendar »
Networking Events
Build meaningful relationships with HCDE students, faculty, and industry partners at exclusive HCDE networking events including student mentor and career development events, faculty/industry research mixers, research poster sessions, and HCDE's annual Corporate Affiliates Luncheon. Full CAP events calendar »
We are always interested in finding new ways to partner with industry affiliates. If you have an idea for a workshop or engagement opportunity, we are willing to work with you to make it happen. Contact us at hcdecap@uw.edu to discuss the best venue for your project idea and connect you with faculty who may be interested in working with you.