Career Fair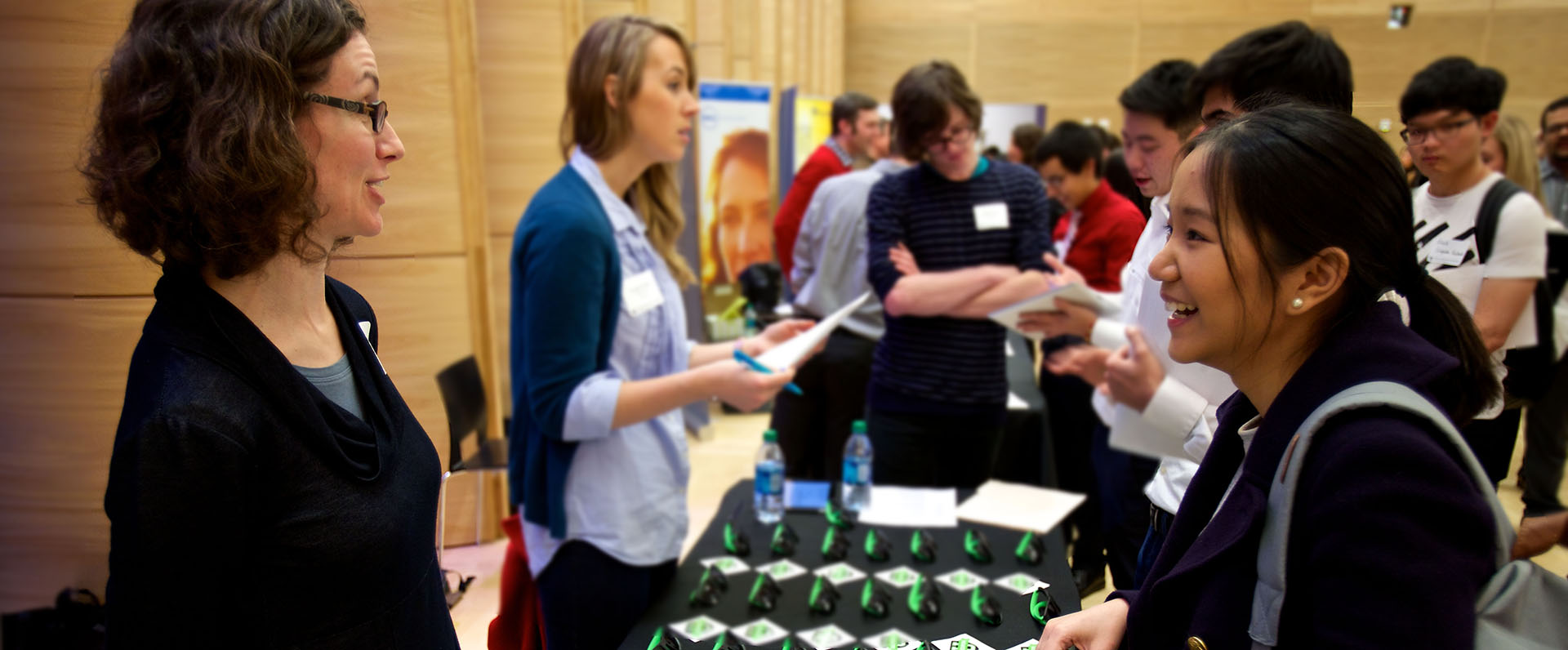 The Human Centered Design & Engineering (HCDE) Career Fair connects students and alumni with industry employers to discuss career and internship opportunities.
2018 HCDE Career Fair
Thursday, November 1
3:30 – 6:30 p.m. (Employer load-in at 2:30 p.m.)
Husky Union Building (HUB), South Ballroom
Employer registration    Student registration
Information for employers
Registration for the 2018 HCDE Career Fair is now open! The annual HCDE Career Fair is a great opportunity for companies and organizations to discuss opportunities, job openings, and internships with competitive UW students. HCDE graduates are skilled in conducting user research, designing user experiences and interfaces, creating and evaluating interactive prototypes, data science and visualization, and more. Employer information and registration here. More »
Information for students
Please join us for HCDE Career Fair 2018 and connect with a range of industry employers. The fair is open to HCDE students and others across campus seeking jobs and internships in related fields. Students should dress professionally with a minimum standard of business casual attire. Bring multiple copies of your resume. If you have a portfolio - either digital or printed - bring that as well! Register here »
Schedule
2:30 p.m.

Employer load-in begins

3:30 – 5 p.m.

Doors open for UW HCDE students only
(sign-in begins at 3:15 p.m.)

5 – 6:30 p.m.         

All UW students and alumni are invited to attend
(student check-in will close at 6 p.m.)

7 – 8 p.m.             

HCDE Corporate Affiliates Pizza and Networking Mixer
(Open to HCDE CAP Members with Associate and Strategic level memberships and invited students only)
Get prepared
Here are a few events, tips, and resources to help you feel ready for your job search.
HCDE Industry Portfolio Reviews – October 23, 4:30–6:30 p.m., HUB 250 (information and registration will be sent via HCDE student listservs in October)
College of Engineering Career Center workshops, career advising, and more.
Create a Handshake account to connect with opportunities and employers.
Sign-up for HCDE's Job Board to learn about job postings specific to HCDE students.
Check the HCDE Student Events Calendar for related workshops and networking events.
Connect with other students that have attended before to hear about their experience.
2018 HCDE Career Fair Companies
Find full company profiles, including roles they are searching for, at the sidebar menu links or by selecting the logos below.