Career Fair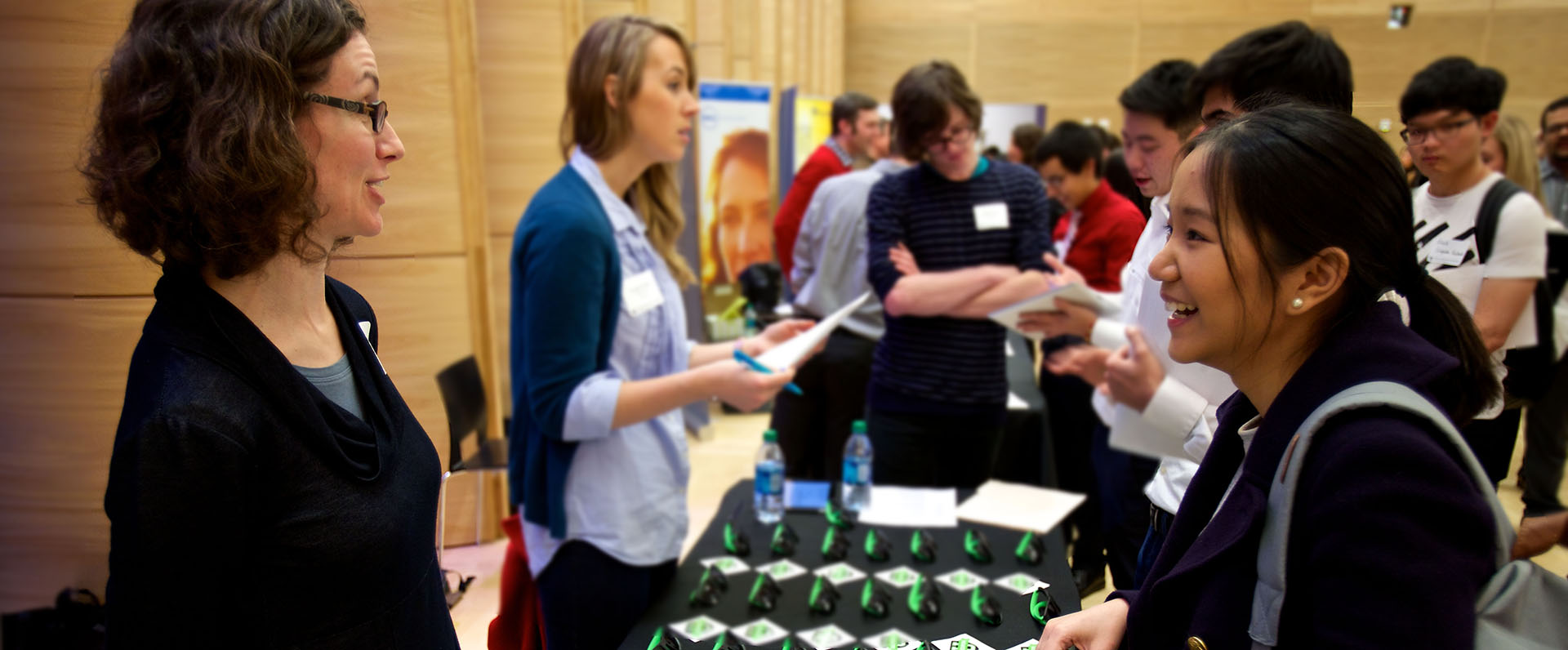 The Human Centered Design & Engineering (HCDE) Career Fair connects students and alumni with industry employers to discuss career and internship opportunities.
2018 HCDE Career Fair
Thursday, November 1
3:30 – 6:30 p.m. (Employer load-in at 2:30 p.m.)
Husky Union Building (HUB), South Ballroom
Information for Employers
Registration for the 2018 HCDE Career Fair is now open! The annual HCDE Career Fair is a great opportunity for companies and organizations to discuss opportunities, job openings, and internships with competitive UW students. HCDE graduates are skilled in conducting user research, designing user experiences and interfaces, creating and evaluating interactive prototypes, data science and visualization, and more.
Employer Registration Fee: $500 (includes recognition as a Career Fair Partner in HCDE's Corporate Affiliates Program). Registration includes access to resumes, a 6-foot table, access to Wi-Fi, parking, and light refreshments; Employer load-in open at 2:30 p.m. Participating HCDE Associate and Strategic Partner CAP member registrations are free and will be acknowledged as Career Fair sponsors with logos and links on the Career Fair home page.
New in 2018! HCDE is offering the opportunity for HCDE Associate and Strategic level CAP members to invite up to five students for pizza and follow up conversations immediately after the event. HCDE will provide members invitation cards to invite students at Career Fair.
How to Sign-Up
Register here by October 15.  If you would like more information about Career Fair or joining HCDE's Corporate Affiliates Program, email Liz Young at youngl@uw.edu.
Make your payment

The best method of payment is to pay via credit card on the UW's Secure Donation website here.
Search for 'HCDECA' and then pay $500 to the HCDE-CAP Fund.
In the comments section, note that you are paying for HCDE Career Fair.

Final details for employers will be provided the week prior to Career Fair.
A list of employers will be added to the website starting in the Fall 2018. Check out our 2017 list of employers here.
Schedule
2:30 p.m.

Employer load-in begins

3:30 – 5 p.m.

Doors open for UW HCDE students only
(sign-in begins at 3:15 p.m.)

5 – 6:30 p.m.         

All UW students and alumni are invited to attend
(student check-in will close at 6 p.m.)

7 – 8 p.m.             

HCDE Corporate Affiliates Pizza and Networking Mixer
(Open to HCDE CAP Members with Associate and Strategic level memberships and invited students only)
Student registration will be available in September 2018.